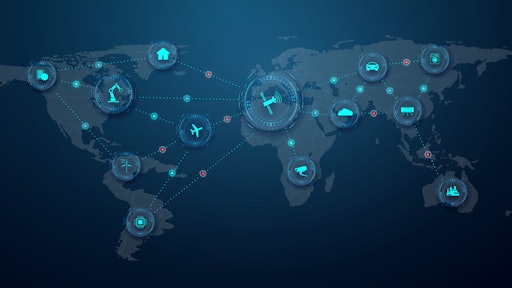 ZinetroN/stock.adobe.com
It's increasingly evident that over the last two years, the COVID-19 virus infected business practices as well as people. According to a recent survey among 160 business procurement leaders, 86% have observed gaps in purchasing capability as a result of the coronavirus. A similar number also believe that procurement plays an influential role in leading their organization's post-COVID recovery— and were nearly unanimous that a reimagination of the entire procurement function is required.
With supply chains still in tumult, improved workflows and better risk management have never been more important. Companies are coping with supply challenges with several new approaches: reshoring, secondary vendors, strategic inventory reserves, vertical integration and tighter supplier collaboration, to name just a few.
In this difficult environment, digitalization is no longer simply a desirable option, it's an essential way forward. Automation can solve multiple problems impacting procurement and purchasing. Procurement professionals are required to not only help set corporate strategy, but also conform to performance targets, respond to market shifts, meet compliance mandates, adhere to budgets and more. Purchasing specialists need to be able to process requests and orders quickly, without creating errors or inadvertently increasing acquisition costs. By automating key tasks, companies can regain their footing and optimize these important functions.
Agility and Productivity
Automation can deliver the speed, clarity, accuracy and efficiency enterprises need, all across the procurement/purchasing continuum. It eliminates pain points caused by excessive manual work, human error, and slow responses to changing market conditions. Where many firms labor through emails and spreadsheets to process purchases, automation can provide a whole new level of agility and productivity.
Digital automation gives organizations full visibility into the entire purchase process. Requesters are constantly updated with information and updates, reducing the friction with purchasing agents. Added transparency also helps uncover bottlenecks and discover more streamlined solutions. Costs are reduced; records of software licenses, for example, can be more easily tracked. The difficulties of back-and-forth communications are also diminished by centralizing work in a single dashboard.
On the software side, automation ensures seamless flows of data between different enterprise platforms. ERP systems, communication and collaboration tools, sourcing applications and other back-office platforms are constantly connected and updated.
Digital transformation was already underway prior to the onset of the pandemic. But COVID-19, upending everything from office work to the state of retail, accelerated this transition. Today, the world operates differently— and automation has become imperative.
Samsonite Unpacks ROI
Companies of all types are finding measurable value in procurement automation. Samsonite, the worldwide leader in travel luggage and accessories, is a prime example. Until recently, Samsonite's Brazilian operation had struggled with its manual purchasing processes. Requests were executed through email and file sharing. Purchasing staff had to sift through old messages simply to find the information required to initiate request a supplier quote. Moreover, transactions couldn't be integrated with the company's ERP system.
Automation ended these problems. Through its new system, Samsonite was able to streamline the request/fulfillment process without affecting existing business, legal and trade requirements. Purchasers and requesters now receive automatic notifications and alerts; managers can not only oversee activity, but also provide comprehensive audit trails as needed. Within the first five months, as a result of the new system, the luggage manufacturer was able to eliminate an estimated 2,370 hours (about 3 months) of manual work and achieve an overall ROI of 177%.
Involve Stakeholders
Enterprises of all sizes can benefit from procurement/purchasing automation. There is no upper or lower limit in terms of dollars, volume or vendor distance.
Implementing an automation solution begins by describing the working requirements. Analyzing the scope of needs, listing pain points and setting purchase parameters will help point the organization to an appropriate and affordable automation alternative. It's productive in this step to create flowcharts of the purchasing workflow, with tasks and responsibilities indicated for all parties. This will also help determine how to set up automated rules that facilitate requests and increase visibility.
Cross-departmental participation during the goalsetting, specification, selection, training and rollout phases will ease the organization's shift to automation. Tracking common KPIs such as cost per invoice, lead time per purchase, purchase order accuracy and emergency purchase requests will help organizers improve the system, enabling processes to become even more efficient over time.
Instituting a procurement automation solution can help any enterprise cope with the impact of transformative events. Geopolitical upheavals, transportation disruptions, weather crises and other major occurrences, while unavoidable, can still be managed more effectively. The pandemic may have been a gamechanger, but the technological innovations it has fostered, especially those for procurement and purchasing, promise to make businesses healthier than ever.