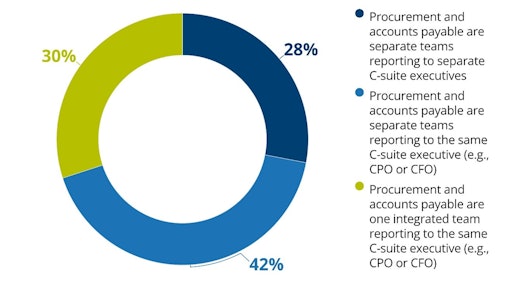 APQC
In response to increasing global interest in end-to-end processes, APQC gathered insight into how organizations are governing and managing their procure-to-pay (P2P) processes. This end-to-end process begins with ordering goods and services, receiving those goods and services, and then paying for those goods and services.
Current state of procure-to-pay governance
A quick look at how P2P is being governed reveals a lack of integration between procurement and accounts payable (AP) in 70% of organizations. In 42% of those organizations, the two functions are separate teams that at least report to the same c-suite executive, but in 28% of organizations, they are separate teams with separate reporting lines. Only 30% of organizations report having an integrated procure-to-pay team reporting into one executive.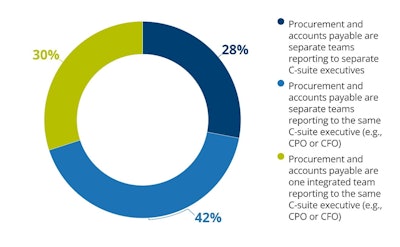 Challenges with disconnected procure-to-pay governance
Crossing traditional functional areas within an organization, P2P involves employees from both procurement and AP. In addition to different reporting structures, these groups often have different goals and measures, and even use different systems. Even if reporting structures and goals are not different, then they are sometimes misaligned.
A disconnected P2P process misses the vital step of considering not only the impact of procurement on payables and vice versa, but also the impact of suppliers' actions on the organizations and the organization's impact on its suppliers. Major disruptions in the supply chain have highlighted the impact of supplier risk on P2P for many organizations. It's all interconnected, and decisions to pay suppliers slower, for example, can impact procurement's relationship with that supplier as well as affect the suppliers' working capital and future ability to continue providing goods and services.
Improving procure-to-pay governance
To improve P2P, it's important to first identify the opportunities to improve and ensure you are fixing the right problems. For many organizations, it comes back to having a single process owner and getting the functions to work together. If the organization cannot implement a single owner for whom "the buck stops here," then at a minimum there is a need to align goals and measures between the groups. It is vital to avoid optimizing the parts and sub-optimizing the whole.
What does it take to be the global process owner? The process owner needs a holistic view of the end-to-end process to be accountable for it. From a leadership perspective, there are several skills required of a process owner that are not related to their expertise in either procurement or finance. A process owner really needs strong soft skills, particularly the ability to bring people together across functions or units that have not worked together or are reluctant to change.
P2P process owners strive for standardized and streamlined processes that can then be effectively automated. By minimizing non-value-added activities, the process owner supports more time, effort, and energy for employees to focus on activities that are truly innovative and differentiate the business from its competitors.
Take action
To focus on productively managing the end-to-end process, organizations need to shift from thinking of procurement and AP as separate processes and implement governance that enables them to become an integrated, seamless end-to-end process.