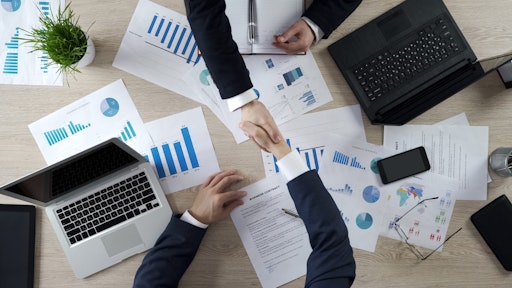 motortion/stock.adobe.com
From fresh lockdowns in China to rocketing inflation, 2022 has opened a fresh chapter in this era of uncertainty.
In a period of extreme change, procurement teams using 20th century models and technologies have often struggled to deliver the ingredients businesses need to remain agile.
Digitalization gives the procurement function an opportunity to reinvent itself, accelerating processes and embedding flexibility, while avoiding a loss of control over cost and risk.
This might seem like uncharted territory, but the next generation of procurement will be built on a model that is as old as time itself. For a glimpse of the future, we need to step away from the spreadsheets and take a walk in the woods.
A connected ecosystem
A forest is more than a group of individual trees, all competing for light, water and nutrients. They are all connected by a vast, microscopic network of mycelium - thread-like fungus - that's woven into the roots of every plant. This Wood Wide Web pulls the required resources from the network and makes sure it gets where it's needed. It even transmits information: for example, when one tree is under attack from insects, it sends warnings via the web alerting others to prepare their defenses.
In terms of connectivity, flexibility and even data, relationships across the supply chain are light years behind these natural networks. But that's exactly how procurement will evolve in the next few years: away from fragile, individual business relationships to more organic, dynamic and resilient networks. The best example of these new networks are B2B marketplaces, which weave global buyers and sellers into a single, symbiotic ecosystem.
The perfect storm
Supply chain operators had long ago twigged that B2B procurement was inefficient and time-consuming, especially compared with the choice and efficiency that define consumer marketplaces. But while processes were starting to become digital, relationships remained firmly analogue.
COVID-19 was the catalyst for a digital and relational revolution. Supply disruptions awoke us to the risk of relying on single-sourcing, especially when they rely on resources or components arriving "just in time". When a relationship fails they need to switch seamlessly to another supplier that they can trust on both quality and delivery.
The rise of B2B marketplaces
Just like their B2C cousins, B2B marketplace are all about tapping into the cornucopia of choice from suppliers around the world. But they're more than that: the marketplace model addresses the two mega-trends of digitalization and supply chain resilience.
True B2B marketplaces provide value in a number of key areas, that we summarize in the Five C's of B2B Marketplaces:
Content: They accelerate sourcing, providing access to a huge range of products, vendors, and pricing

that are digitally connected to the buyer.
Capability: They improve process efficiency thanks to shared, standardized infrastructure, enablingfast, accurate and increasingly automated transactions at scale on cloud-native platforms.
Control: They reduce risk by pre-screening every participant ensure they meet the required product standards and digital processes.
Connection: They provide resilience by providing fast access to alternative vendors when a disruption impacts supply. Marketplace operators with specialist expertise are well placed to provide guidance on equivalent sourcing options.
Convenience of use: They are intuitive and easy to use, enabling anyone to quickly start saving time, simplify their workflows, improve processes, and build stronger, more meaningful relationships with partners and suppliers.
Making the transition to this model is not a major technical challenge. It does, however, require a significant change of mindset. When done properly, it's transformative, enabling participants to buy directly from a curated supplier base, freeing procurement teams to focus on more valuable tasks, and empowering small and medium-sized businesses to start their digitalization journey and begin competing with global vendors.
As each relationship is built on digital threads, data should flow seamlessly and instantly between participants, providing reliable and up-to-the-second insight into the progress of products through the supply chain - and the overall health of each relationship.
The market for marketplaces
McKinsey reports that more than three quarters of buyers and sellers prefer digital self-serve and remote human engagement over face-to-face interactions. Meanwhile Forrester estimates that cross-border B2B e-commerce transactions will reach $1.8 trillion by 2023, accounting for 17% of all B2B sales in the United States.
So all's rosy in the garden? Not quite. There's a huge choice of marketplaces in the market, and it can be hard to see the wood for the trees. Many masquerade as B2B when they're just thinly-disguised B2C networks that can't support the types of transactions or unique set of criteria that govern B2B trade. What should businesses look for in a marketplace?
Most marketplaces, whether B2B or B2C, are easy and intuitive to use; to determine their true value and resilience, you need to look below the surface. B2B purchasing has a lot more moving parts than B2C buying, from the sourcing and selection of vendors and products, through to the handling of RFQs, contracts, payments and logistics.
Enterprise customers might want the same kind of user experience they've become accustomed to at home through the likes of Netflix or Amazon. But they also need robust processes for governance, compliance and integration on the back-end. As demand for B2B marketplaces evolves, there remains a huge proliferation of thinly reskinned consumer sites masquerading as enterprise-ready products. Don't let a shiny user interface distract you from taking a good look under the hood.
A great B2B marketplace platform should provide true transparency and competitive offers for buyers, while offering a broad prospecting base to sellers at low customer acquisition cost. Most important, however, is vision. In recent years these marketplace models have matured rapidly, and are now capable of supporting worldwide scale. As such, they should be a springboard to new business paradigms - for example, by combining finance and procurement functions.
A more efficient, resilient and flexible supply chain will only be possible when every stakeholder - from supplier to carrier, banks to buyers - are connected in the same, digital web. And not just one web, but many. The beauty of digitalization is that you can create custom controls and regulations, enabling you in effect to create your own marketplace, inviting trusted peers to take advantage of industry-specific group purchasing, or to create a whole new vertically-integrated supply chain.
With the threats of an economic storm and further disruption closing in fast, it could be some time before the global economy is out of the woods. But with the genuinely boundless opportunities provided by B2B marketplaces, we are building the foundation for a new paradigm of trade; one that's characterized by choice, transparency and, above all, resilience: a worldwide web for trade in the 21st century.