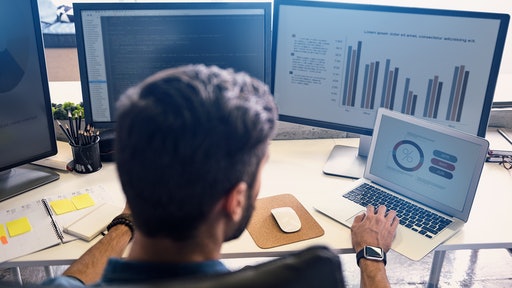 Getty Images
You can't read the news without hearing yet another story about global supply chain woes, from empty shelves to hard-to-find items to delayed medical supplies. It's a headache for consumers, but an even bigger nightmare for the procurement professionals responsible for obtaining these products. So, how are they handling this crisis and what can be done to alleviate their stress?
One way forward is through automation. Not with robots that physically move goods in a warehouse, but through artificial intelligence (AI)-powered contract tools that can help improve the entire process. Consider that the problems inherent with manual contracting processes cut across industries and sectors. On average, nearly half of organizations say their procurement and supplier contract activities are at least 75% manual. And according to the WCC, 92% of time is wasted on inefficient manual contracting. Along with wasting time and resources, a poorly managed contract processes can result in exposure to serious legal risk, and 80% of B2B revenue is governed by contracts.
Automated contract tools can speed up these inefficient, risky and time-consuming processes, eliminating hours, weeks or even months off the time it takes to procure goods and services. And, it's this automation that can help restock shelves.
Bottlenecks and inefficiencies in the procurement process
Even before current supply chain woes, stakeholders were constantly frustrated by the error-prone and often manual onboarding process for new suppliers. It's no wonder that, with approximately 10 steps in the average procurement process, there are multiple opportunities for bottlenecks and inefficiencies that contribute to this delay.
One of the biggest pain points is the contract negotiation phase. It's true that the RFP process can be lengthy. Yet finding the right suppliers and partners is just the first step. After that, you need to negotiate contract terms to ensure that both parties get a fair deal. Build in the opportunity for options such as supply chain financing that will offer future advantages. It often takes large companies 3-6 months to negotiate even the smallest contracts. Contract review takes this long because it is typically a highly manual process that is very time and labor intensive. The more people who touch a contract, the worse and lengthier the process becomes.
Contract review requires many hours of manual work and multiple email exchanges between suppliers and the legal department haggling over terms and conditions. If your company is negotiating with a provider on that provider's paper, the process often goes from weeks to 90-120 days. For retailers looking to have a particular item on their shelves by a specific timeframe, 120 days to hammer out contract details means the peak season will have passed before a single item is shipped.
To ensure the best contract terms now, look to past contracts. By reviewing what worked and what didn't work, you can hone current terms in ways that will help save money and time. Consider a recent example of hard-to-find lumber for construction and home improvement projects. Companies scrambled to find new suppliers or renegotiate out-clauses, but most of these types of contract reviews are typically done manually. With automated contract review, they could have easily used data from previous contracts to help negotiate with new suppliers, anticipate pricing, allow for considerations like discounts on items or determine the best renegotiation terms to not have a break in the supply chain.
Automating the contract review process
Automation can speed up the entire contract review process to allow the procurement department to focus on strategic planning, supplier relations or bringing forward new vendors to fulfill back-ordered products.
Automation can be used in several ways throughout the procurement process. These tools can be leveraged to help make decisions on routing or workflows, such as creating less opportunity for a contract to sit with an irrelevant party before that person finally forwards it along, which wastes time and accomplishes nothing.
Tools that use technologies like machine learning and natural language processing can also "learn" from the language in past contracts to instantaneously redline a new contract and suggest edits and comments, just like a human reviewer. These automated changes can be trained to meet your organization's standard company forms and language. And since AI "learns" over time from the ongoing inputs of human SMEs, the automated process continuously improves.
With automation, procurement teams can leverage their past contracts by importing edits from previously reviewed contracts similar to the contract under review. This also provides insights into the organization's historical approach to managing risk. For example, consider a retail company that has negotiated contracts with clothing vendors multiple times in the past. When a procurement team works with a new vendor, it can upload the new contract into the automated tool, and the AI will detect the similarities between the language in the new contract and previous contracts and will show similar documents from the past. Edits can then be easily viewed and quickly imported.
Automated tools not only reduce risk, but also improve training and allow employees to become onboarded with the company standards from their first day on the job. This saves time and allows for more consistent approaches.
Smoothing the process between procurement and legal
With manual processes, the procurement team, legal department and the supplier usually pass a contract form back and forth many times with redlines. This process drags on and is highly prone to errors. This is especially true with contracts from a third-party form that the team has never seen before.
Part of the inefficiencies stem from the fact that procurement and legal are looking at different issues through different workstreams, even while looking at the same document. Procurement is looking at commercial terms while legal is looking out for risks. Procurement is focused on getting the most advantageous business terms but are relying on the legal team to add in the specific guidelines that keep the contract consistent with company standards around regulatory issues, legal terms and other considerations.
With AI-powered tools that have learned your company's playbook and terms, it takes just a matter of minutes to redline a contract, which eliminates weeks or even months of back and forth.
Automation can also help organizations determine which potential legal issues should take priority, and ultimately, which contracts need to be routed to the CFO or the legal department. For many standard contracts, the procurement department may not need to seek the review of an attorney, if automated software is being used. If a sales contract with a long-term vendor contains clauses that fit within the company's playbook, the legal department may not need to get involved at all.
Conclusion
As companies continue to grapple with supply chain woes, AI-powered contract tools can eliminate many issues related to vetting preferred vendors by instantaneously reviewing contracts according to your company's standard forms and language or by eliminating the need for a contract to be escalated to the legal department. This alleviates bottlenecks and allows contracts to be completed in a fraction of the time that manual processes take. This frees up supply chain and procurement professionals to focus on strategic tasks such as customer communication, business planning or issue resolution.