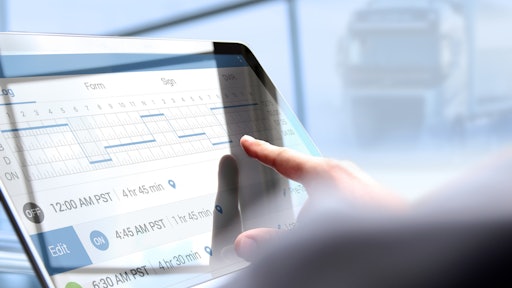 Saklakova - Adobe Stock - Driver ELD
President Biden's recent executive order requiring a thorough audit of global supply chains shines a bright light on the criticality of real-time and actionable data.
Today, few manufacturers have the ability to visualize data, discover problems in real-time and proactively collaborate with internal teams and partners to remedy issues. That's a major problem given the widespread supply chain disruptions we continue to face.
Overcoming these issues and strengthening supply chains requires our leaders to rethink their approach to two fundamental enablers of supply chain visibility: electronic data interchange (EDI) and real-time analytics.
The root of the problem
Time is money – and most EDI and IT teams waste both. Many IT teams spend hours – sometimes up to 50% of their time – sifting through EDI to respond to tactical requests for information essential to supply chain operations. Other teams struggle because they still rely on Excel spreadsheets or legacy solutions from 15 years ago, which makes it hard to access and share critical information across their networks.
The problem extends beyond a company's four walls. When EDI information is inaccessible, or data is housed in spreadsheets or kept in siloes, there's no easy way to securely share information, compare data and proactively solve problems with supply chain partners. By the time a data request gets completed, it's often too late – the purchase order was delivered too early, a part was already missing or the exception was already issued.
Poor data interchange processes are also proven to negatively impact the bottom line. Without full visibility into operations, money is quite literally being left on the table in the form of unnecessary chargebacks and fees that could have been avoided with timely data and real-time collaboration. It is time to put an end to preventable EDI-related costs.
The benefits of going electronic, intelligently
Having easy access to real-time, centralized data analytics is critical. Not only does it boost operational resilience, but it also provides a competitive advantage. In fact, up to 40% of organizations lack the technology required to more effectively manage their EDI processes.
Here are three ways you will experience advantages with more intelligent and automated EDI processes.
1. The power of data will be harnessed in your hands. In today's tech-driven world, we have access to an unprecedented amount of data. But, without the right technology to sort through, organize and analyze, much of that data often goes underutilized and wastes away trapped in siloes or lost in translation. With the right EDI solution to manage that process for you, this data transforms from miscellaneous stats and numbers into powerful knowledge that can be used to drive your organization forward.
2. Speed and precision. The need for speed is seen everywhere. Late deliveries result in hindered brand reputation, hurt customer relationships and costly fines. To ensure you're meeting agreements and delivering the speed and precision promised, EDI has never been more crucial. Intelligent EDI tech can keep track of your contracts for you and make critical logistics information easier to access and act on, which helps the organization avoid costly fines.
3. Reduce errors significantly. The margin for error tolerated is increasingly shrinking as vendor and customer expectations (and chargebacks/fines) continue to mount. Successfully pulling critical data together starts with investing in the right EDI solution to analyze your network of operations and automatically alert supply chain planners of potential errors.
Don't wait to act
Automating and enhancing EDI is no longer a discussion for the future. Today's supply chain leaders need the power and flexibility to quickly pivot and adapt whenever necessary. This requires real-time insights and visibility. Enhancing your EDI approach is also a surefire way to reduce costs, improve efficiency and streamline operations. Are you ready to make the next move to give your team the tools they need for success? The right EDI solution could be a mere step away.