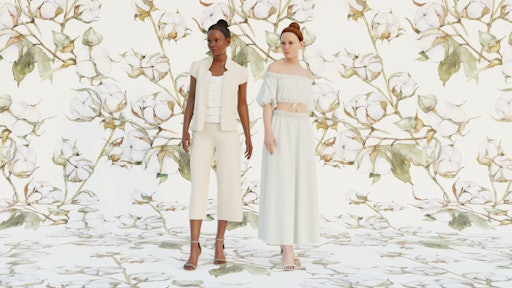 Browzwear
3D solutions provider Browzwear and non-profit Cotton Incorporated team up on an all-natural digital collection with more than 20 minimally processes cotton fabrics that can be accessed in 3D software VStitcher's asset library. The collection is one of many new sustainable initiatives seen throughout the supply chain to release in honor of Earth Day. Browzwear claims that the partnership cuts down on textile waste throughout the process and allows brands to create numerous styles without limitations by accessing the alternative , minimally processed materials on VStitchers.
Per Browzwear:
In addition, Cotton Incorporated's CottonWorks platform will offer users an exclusive collection of over 100 downloadable, Browzwear-compatible, digital cotton fabric files for 3D garment development.
In textile manufacturing, in particular, there are several technologies such as laser etching, cationic cotton dyeing, and enzymatic scouring that can help product developers and manufacturers reduce water, energy, and chemicals during textile processing. Using 3D design programs like

Browzwear's

VStitcher for garment prototyping continues the quest toward sustainability throughout the entire product development process by reducing sample waste and lead time.
"Innovation is at the heart of what we do with cotton," says Mark Messura, SVP of global supply chain marketing, Cotton Incorporated. "It starts at the farm level where cotton is responsibly produced and continues in our work supporting design and manufacturing."