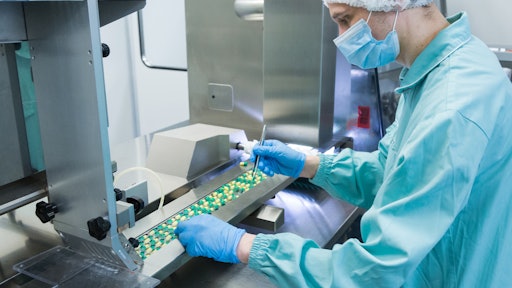 Ivan Traimak - Adobe Stock
Between widespread remote work, travel and transportation bans, supply shortages and delivery delays, the pandemic has taken a serious toll on the supply chains of manufacturers and distributors large and small. In fact, the impact of the Coronavirus disease (COVID-19) was so substantial on supply chain operations that 94% of Fortune 1000 companies experienced a disruption in 2020.
Furthermore, the majority of companies have suffered significant business impacts, causing more than half to downgrade their growth goals for the future. While we've slowly seen the initial effects of the pandemic recede over the last few months, distributors and manufacturers have re-evaluated operations and prioritized modernizing their processes to remain competitive and retain customers amidst the rapidly-evolving landscape.
Supply chain leaders have never experienced such unpredictable conditions or pressure to create long-term business resiliency, forcing them to consider the lessons learned from recent events, so they can future-ready their supply chain management strategies.
What we learned from the pandemic
One of the biggest supply chain challenges during the pandemic has been customer service. Disjointed workforces and delayed deliveries have created an influx of customer inquiries, causing customer service representatives (CSRs) to be overwhelmed by the number of requests they need to fulfill each day. CSRs must be able to do more with less, devoting the time and resources they need to solving customer problems without inundating their workloads, if they hope to improve customer service.
Another struggle for manufacturers and distributors is trying to operate with the slow, costly processes currently in place. CSRs spend nearly 3-4 hours handling the sales order process manually, and even after all of that effort, the order is often rife with errors that need to be addressed. This time-consuming process hinders the ability for distributors and manufacturers to efficiently fill requests and meet customer expectations.
The pandemic shined a light on how widespread the lack of digital transformation is across the distribution and manufacturing sector. Many teams are working with outdated tools that require hands-on interaction, which doesn't actually improve the lengthy processes. Technology plays a vital role in a digitally-driven business. Having the right tools in place creates a better workflow, and ultimately, a better customer experience.
Why automation is crucial to post-pandemic supply chain management
Digital transformation is essential to all areas of business, yet almost half of all B2B sales are still conducted manually. As companies become increasingly customer-centric, anything they can do to streamline processes and decrease the time it takes to get products and services to the customer —without errors—can significantly cut costs and win long-term customers. This is why sales order automation is a critical component of modern supply chain management.
Automating sales orders allows manufacturers and distributors to deliver superior customer service in a highly competitive market. Currently, CSRs within the distribution and manufacturing sector spend too much of their day manually converting purchase orders into sales orders. This clunky, antiquated approach leaves little time for them to win over customers with an exceptional experience. Today, organizations must streamline repetitive, manual tasks to enhance the customer experience.
Not only does the customer benefit from sales order automation, but teams can focus on customer-centric and revenue-driving initiatives. Automation removes the manual labor from generating, processing, and analyzing sales orders, significantly accelerating the sales order process while drastically reducing the likelihood of errors. Emailed purchase orders can be converted into a sales order without the CSR team having to intervene.
The companies that didn't have automated processes prior to the pandemic must implement supply chain automation as soon as possible. By enabling enterprises to keep productivity high and customer-service standards even higher, automation helps manufacturers and distributors execute a "do more with less" approach. They can optimize business processes and effectively improve supply chain stability while freeing their team of the redundant tasks that eat away at productivity. Even in difficult times, distributors and manufacturers can effectively improve customer service and efficiently streamline processes with the help of automation.