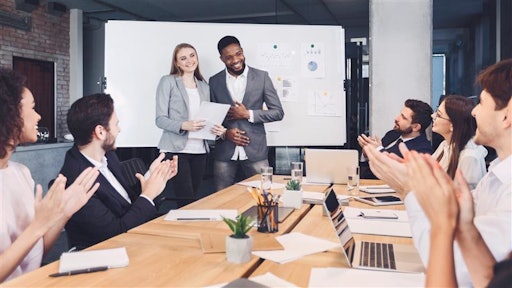 Prostock-studio
Before looking forward, it helps to look back. This is certainly true when it comes to procurement. In the past, procurement typically was not viewed as a business enabler, but rather was seen as a function that drives compliance and follows a rigid process.
Where we are today
More recently, the role of procurement has been slowly changing, and we are even seeing leaders coming out of procurement and supply chain to sit in the C-suite of many companies.
The procurement function is now being taught in school, and we are seeing more college majors in supply chain. This is causing people to see where procurement falls in the broader scheme of business and how it can help a business achieve its goals
In fact, procurement is moving away from being about compliance and mandates and more about business enablement. It gives the purchasing people within an organization the easiest possible path to make the right decisions around procurement.
At one time, cost savings was the primary role of procurement, but today, it may be a secondary or tertiary level. Procurement is beginning to be viewed as bringing market intelligence to the table in order to help businesses make better decisions, to speed up business processes and to minimize risk, all while producing cost savings.
Impediments to progress
While much progress has been made concerning procurements role as a strategic partner, there are several stumbling blocks that may prevent it from achieving full functionality. For one thing, procurement leaders do not think their teams have the skill sets necessary to accomplish the objectives they have. But, at the same time, procurement executives have a hard time justifying an investment in training.
Procurement executives also say that technology will often solve a lot of their business problems. But again, the amount they are investing in technology is limited. The general theme here is that procurement has a hard time justifying the budgets needed to take their team to the next level, supporting the business by making faster, better decisions.
COVID-19's impact on procurement
The Coronavirus disease (COVID-19) has helped to elevate the status of procurement. As the economy shut down, companies naturally moved to cost-cutting mode. Procurement professionals were called in to be part of strategic meetings in which company executives addressed the way they would address the impacts of COVID-19 on their operations. Now procurement had a seat at the strategic decision-making table.
And, in addition to looking at ways to cut costs, it's helped deal with the sudden constraints of the supply chain, especially with imports from China and other countries slowing down or stopping completely. Finding new sources of supply for the goods and services companies need to support their business was the second problem procurement was called upon to help solve.
COVID-19 has forced businesses to look at what happens if everything goes wrong when it comes to the supply chain. Businesses needed to develop a Plan B, and procurement plays a role in developing that new plan.
Keeping the seat at the table
While COVID-19 helped procurement get a seat at the table, it will be up to procurement professionals to keep that place. Of course, they still need to continue to look at historical spending patterns, analyze last year's spend and negotiate the best deal with suppliers.
But, they also need to start looking forward at what the company's strategic plans are. If the plan calls for a 25% revenue increase, opening facilities in several new locations, going into new markets or creating new products, procurement needs to proactively start researching what the future will look like.
For example, it can investigate what each of the potential new markets look like from a supply perspective. They may find that there is a raw material shortage in one of the proposed new locations or that import regulations may present problems. They can then share that intelligence and suggest that the company consider shifting to a different location, which will allow it to improve operating margins.
Procurement is also in a unique position to bring market intelligence to the table from existing suppliers. Suppliers are a huge source for this information, and a lot of companies fail to tap into this valuable resource. Many suppliers are willing to share information with companies they want to continue to do business with. Procurement is in the best position to obtain and evaluate information from suppliers that can then be shared with the company's executive team.
Procurement should not forget the past because it is important to look at where the company is spending money, where there are too many suppliers, where better terms can be negotiated, etc. But, it can't get hung up on the look back. Keeping its seat at the table will require it to continually look to the future.
Procurement and the workforce of tomorrow
Younger generations have different expectations about how they should be able to purchase items needed in the workplace. They do not want to be told "here is your preferred supplier and here is the process you must follow." They want technology to guide them to make the right purchasing decision, but also want to feel that they have some say in that decision.
They expect to have an Amazon-like purchasing experience in their business buying with the understanding that procurement has put agreements together, made sure that the best terms were negotiated and that the company is protected from risks. However, they also want to make their own decisions about what they need and when they need it.
While some procurement teams have been moving in that direction for the last few years, there still is a great deal of work to do to make that a reality.
With procurement now in a better strategic position, leaders may find a stronger ability to obtain funds allocated for the necessary training and technology, further cementing procurement's place in a business' strategic decision-making process.