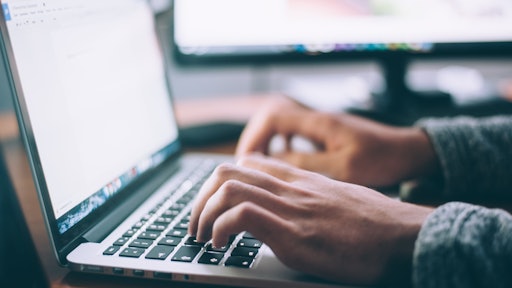 Unsplash
When a customer places an order with your company, how many hands touch that order as it moves through the order-to-cash value chain? Leading organizations strive to have as few as possible, because each touch or manual intervention along the way carries the possibility for introducing errors that slow down the process, result in a less seamless customer experience, and bring money in the door less quickly.
Touchless order performance calculates the percentage of sales orders processed without manual touches or interventions, whether during order entry, scheduling, shipping, or invoicing. While it is not necessarily a key performance indicator (KPI), touchless order performance is an important leading measure that sheds light on the performance of a wide range of KPIs along the end-to-end value chain.
APQC has found that top performers are able to process 94 percent of their orders without human intervention of any kind, as illustrated by data from APQC's Open Standards Benchmarking in Supply Chain Planning research in Figure 1. Bottom performers, by contrast, require human intervention or inputs for 20 percent or more of their orders. Having to manually intervene in one out of every five orders increases the possibility of errors and can lead to longer customer order cycle times, higher days sales outstanding (DSO), and even lower revenue growth.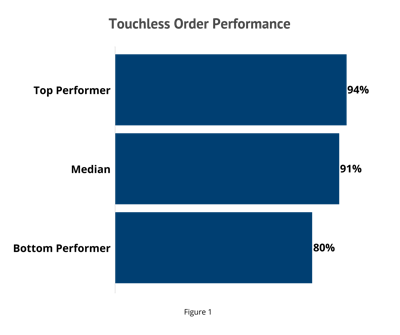 A lower percentage of touchless orders can also be a sign that there are issues that need to be addressed in the order-to-cash process. For example, APQC's Customer Credit and Invoicing research found that invoicing issues account for 25 percent of all manual sales order interventions. Manual interventions can also come from pricing issues (20 percent of manual sales order interventions), contract issues (18 percent), and incorrect customer master data (15 percent). If you find yourself among the bottom performers on this metric, a good starting point is drilling into AR and other processes associated with these areas to look for process improvements.
Operational benefits of touchless ordering
APQC's research indicates that the ability to create, modify, and fulfill sales orders without human intervention improves KPIs across order management. For example, organizations without order processing automation spend $1.64 per $1,000 in revenue to manage sales orders, while organizations with automated ordering systems spend $1.11 per $1,000 in revenue on the same process. That difference in cost represents more than $1 million in savings for a company with $2 billion in annual revenue that automates the process. Automation for order processing is also correlated with operational benefits like:
reduced order processing time,
higher staff productivity,
reduced personnel and overhead costs, and
faster cycle times for the end-to-end order-to-cash process.
Customer service benefits of touchless ordering
APQC has also found that a greater degree of touchless order processing has a large impact on external and internal customer service. This makes sense, given that an inefficient order fulfillment process can create headaches and rework not only for customer service representatives (CSRs) but also for every partnering function from production and manufacturing to logistics and accounting. By improving response times and providing consistency across order intake and fulfillment processes, automated order management improves the overall customer experience and speeds up the end-to-end order fulfillment process.
With an ever-expanding number of order intake channels—including phone calls, live chat, social media, mobile applications, email, and online portals—it is more important than ever for organizations to provide a seamless and consistent customer experience. Automation standardizes all incoming order information so that customer service can more easily locate and address any exceptions and issues. This helps eliminate miscommunication across the entire order fulfillment process and ensures that tasks—or orders—are not lost during hand-offs among staff and between functions.
By standardizing and moving toward touchless orders across the enterprise, organizations also free up customer service representatives to focus on work that drives value for the organization, rather than data entry or manually sorting orders. The higher the percentage of touchless orders, the more time customer service representatives have for value-added activities like fostering customer relationships, providing KPIs to drive better service, and resolving customer claims.
Moving forward
Organizations with a higher percentage of touchless orders enjoy faster cycle times, see fewer errors, speed up their cash-to-cash cycle time, and provide customers a more seamless ordering experience. With so many visible benefits, organizations should strive for as many touchless orders as possible. While 100 percent may not be a realistic goal, organizations still gain benefits by focusing on the journey more than the destination.