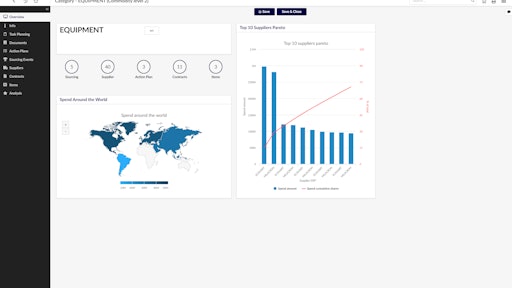 Ivalua
Chassis Brake International, a global manufacturing business, was formed in 2012. Yet, the company maintains more than 90 years of auto industry experience under its belt. That's because the company, which last year sold more than $1 billion in OEM vehicle brake systems, has changed hands and names several times since its formation in the 1930s. Case in point: The company, which was recently acquired by the Hitachi Group, is now part of the Brake Unit of Hitachi Automotive Systems.
Ivalua, Redwood City, Calif., was founded in 2000. It was built around the core idea that procurement can unlock significant strategic value from a company's spend and supply chain. Several years ago, the two very different companies formed an unlikely alliance.
Chassis Brakes, headquartered in The Netherlands, has both retained its focus on vehicle braking systems and extended its geographic reach throughout the auto making world. Its footprint includes 12 manufacturing sites and 11 engineering centers in addition to sales offices in Europe, Asia, Africa, North America and South America, employing a total of 5,500 people in 16 countries.
That growth has positioned the company among the top tier of auto part suppliers worldwide. But, it has also involved bringing together operations from diverse cultures with different histories at each location. Those differences often extended beyond the facility itself; they also included the family of suppliers that served each of its plants. Those supply chains didn't typically overlap because the company produced different brake systems and components at each location.
As a result, the company dealt with way too many vendors – it is estimated that something over 12,000 suppliers were involved. Its master list of suppliers had become corrupted. Purchasing procedures differed widely from one facility to another. Only about 30% of its spending was covered by official purchase orders and only about 25% of its spend was fully accounted for.
Each of the company's far-flung geographic regions operated with considerable autonomy. That gave senior managers at its global headquarters very little visibility. For example, procurement contracts, where they existed at all, were stored at the company's local offices. Purchase requisition practices and purchase order processes were inconsistent across its various operating sites. Many of them involved manual entry paper-based procedures. As a result, Chassis Brake's global commodity managers had little control over the company's supplier strategy. It was a mess, and the company's leadership realized it.
The solution – involving a major transformation across the company's global procurement and supply chain – included a variety of objectives. Most important was to rationalize its supplier base by forming strategic partnerships and enabling select suppliers to expand their reach from local into global sales. Cleaning up and centralizing the company's master list of suppliers would enable it to better monitor supplier performance. Standardizing and expanding the number of items acquired through purchase orders would provide another way of improving visibility into the company's contracts. Perhaps most important, and applying to virtually everything it did, was to digitize the company's core processes, including purchase requisitions, requests for quotations, purchase orders, contracts, catalogs and more.
It was a tall order, and to help make it succeed, Chassis Brake brought in Ivalua, which offered a unified platform for all sourcing and procurement needs. Ivalua works by providing clients with a suite of applications that enables them to digitize processes, manage spend categories, improve transparency and enhance data quality. For Chassis Brake, it was a disruptive transition, but one that was badly needed.
Ivalua's system empowered a series of changes by the Chassis Brake's team. One was enabling better knowledge of Chassis Brake's suppliers and the amounts spent on them – information that could then be used to provide better leverage for negotiation. Transitioning from paper-based to fully digital processes provided the company with fuller visibility into its purchasing value chain, as well as better communication and collaboration with its suppliers. Global visibility into its supply chain, in turn, afforded more accurate category management as well as the identification of supplier hierarchies.
Digital systems also accelerated the speed with which procurement could be executed, producing faster results for the company. The company's fragmented database of suppliers was consolidated and shared across all locations of the enterprise, with Ivalua serving as the vendor master, integrating to the many ERP systems. The platform enabled easier, more seamless integration with SAP and ERP systems, with local tax and regulatory systems and faster onboarding of new hires.
In time, the company was able to measure the impact of those benefits, which included a 0.5% savings on direct spend, approximately 10% savings on indirect spend and a 50% reduction in bloated supplier base. Its business processes were dramatically improved; 99% of purchases are now covered by purchase orders and 98% of spend can be analyzed by corporate staff. Supplier contracts became fully visible; purchase requests and purchase orders could now be made using mobile devices; and 25 points of interface were established between the company's Ivalua platform and ERP software from other vendors to ensure a unified view of supplier data throughout the enterprise.
Ivalua's comprehensive source-to-pay platform is positioning Chassis Brake International for its next act. With its digital transformation now virtually complete, the company is ready for its pending integration into Hitachi Automotive Systems.