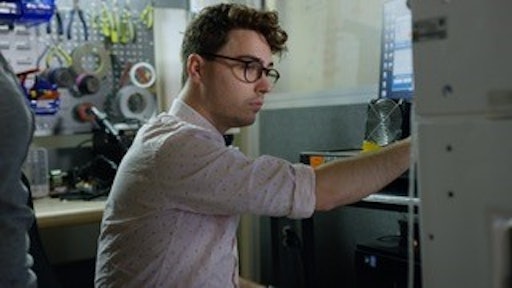 Essentium
Every manufacturer can benefit from more efficient procurement and shorter production cycles. That's why a growing number of manufacturers are now taking a serious look at additive manufacturing.
Additive manufacturing describes the technologies that build 3D objects by adding layer-upon-layer of material, whether it be plastic, metal and more.
Consider that you manufacture running shoes. Additive manufacturing has the power to transform your business. It gives you the ability to combine production processes by 3D printing key parts on an industrial scale—such as mid- and outer-soles for shoes, which paves the path today to additively bond the soles to the shoe upper tomorrow.
Or, let's say your company develops highly technical electronic devices. 3D printing of electrostatic discharge (ESD) safe tools and fixtures for electronics manufacturing of devices such as phones or laptops cuts costs and improves factory-floor agility vs. stocking thousands of variations of raw materials sourced from global suppliers.
While manufacturing is widely outsourced due to manpower costs, additive manufacturing is turning current manufacturing processes upside down. It is driving localized production and transforming logistics and supply chains.
Additive manufacturing will lead to a more sustainable future, where more consumer items are produced locally and fewer of our everyday goods are shipped across the globe.
That's a game-changer for procurement.
3D printing enables companies to shift their sourcing of parts from remote locations like China to on-site production facilities, which significantly reduces procurement costs. It also accelerates time to market because you can print the parts needed in a matter of hours, rather than waiting days or weeks to receive the parts from a supplier.
This gives companies a critical edge over their competition.
Rather than stocking a warehouse full of parts that may/may not become obsolete, additive manufacturing condenses the physical space into digital files that can be stored in the cloud and easily accessed if/when needed. This distributed manufacturing approach enables companies to decentralize production to manufacture the final product closer to the customer.
And yet, despite the many advantages that additive manufacturing brings to procurement, a survey commissioned by Essentium found that procurement departments are reporting limited success in the adoption of 3D printing at scale—far less than design and engineering, which are experiencing the most success.
Specifically, the survey reported that only 29% of procurement teams are finding success with 3D printing at scale, largely due to technological and organizational obstacles to adoption.
So, how can companies overcome these obstacles? For starters, procurement teams need to ask themselves a few questions: Are my engineers trained to design parts using additive? Who in my organization is skilled in using 3D printers? And, from a corporate perspective, has the management team made it a priority to invest in additive manufacturing equipment?
Traditional manufacturing dictates a need for scale to achieve economy, which creates inefficiencies and friction between the product idea and its delivery to the user. This is where additive manufacturing can revolutionize how products find their way to consumers. In addition, it provides an opportunity to manufacture lower-volume, lower-scale products economically.
Procurement teams also should understand the ways that 3D printing will change and improve the way they do their job. For instance, with additive manufacturing, procurement teams won't need to jump on the phone all the time to interview potential suppliers and locate parts. Instead, these teams may have a new role—that of materials experts. Procurement professionals will make it their job to understand which materials will work best for the parts their company wants to create in-house while taking advantage of reduced costs by consolidating assemblies composed of many parts into single 3D printed parts. Furthermore, additive manufacturing processes enable the production of geometric shapes that otherwise require assembly of multiple parts. Component consolidation dramatically decreases costs, increases production speed and amplifies functional performance on the production floor.
Perhaps one reason procurement teams have struggled with additive manufacturing is the fact that the market has been dominated by closed systems in which customers are locked into materials provided by their 3D printer vendor. Until now, procurement teams have had to buy their materials directly from these hardware vendors. This is a challenge to manage because the materials sold by those vendors are often limited. As a result, organizations have been able to use additive manufacturing only for some parts and not others, thus preventing them from realizing the benefits of scale.
But, this is now changing, with more 3D printer vendors providing an open ecosystem that allows customers to pick and choose their preferred materials. Further, due to the ongoing introduction of a wide variety of 3D-printable materials, from high-temperature polymers to durable metals, manufacturers now can produce more of the parts they need at industrial scale—quickly, reliably and with the requisite repeatability.
Today, many procurement teams are still working overtime to qualify multiple suppliers around the world and source the parts they need at the lowest available price. But, with additive manufacturing, you no longer need to source those parts from many different suppliers. Instead, you can simply search the availability of materials and then begin the process of building those parts in-house. Not only will you reduce the time and money it once took to purchase and transport the parts, you will greatly speed time to market.
This kind of self-contained supply chain will prove to be a critical success factor in today's increasingly uncertain world. If you can produce critical parts yourself without relying on global suppliers, you'll be in a stronger position to get your products to market and weather any storm—whether it's a disease, a natural disaster or political upheaval.
Therefore, distributed-manufacturing supply chains aren't just viable; they will be a pivotal part of the new manufacturing and design environment. Integrating the processes, whereby one machine can produce various items at once enables micro-manufacturing facilities to displace centralized mass manufacturing.
Distributed manufacturing has the ability to transform industries on the same scale as that of the industrial revolution. Procurement teams that remain flexible and learn to leverage 3D printing to their advantage will be the big winners in the years ahead.