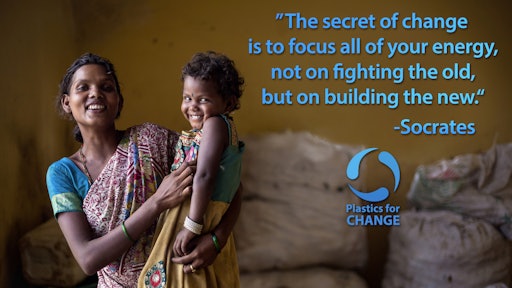 Andrew Almack, founder and CEO of Plastics For Change, is making a difference. His company Plastics For Change is empowering businesses around the world to procure with purpose by helping them transition to recycled plastic and, in the process, develop transparent, socially and environmentally responsible supply chains.
It Started as a University Thesis
While on a trip to Cambodia in 2011, Almack was shocked by the scale of poverty and lack of waste management he saw. "In developing countries, 90 percent of recycling is informal with wastepickers collecting recyclables and selling them to scrap shops," he recalls. "These scrap shops sell plastic to wholesalers that in turn sell it to granule producers that provide the source stock for manufacturers. This informal recycling economy is very exploitative. Those at the base of the supply chain face numerous challenges when accessing fair markets for the discarded plastics they collect."
Almack believed he could help to change this. Upon returning from his trip, he wrote an honors thesis that proposed the concept that would later become Plastics For Change. Since then, Almack has launched Plastics For Change in India, working with a Hasirdala, a social enterprise committed to creating predictable livelihoods for wastepickers by providing total waste management, urban gardening services and products for sustainable living. Their member-based organization consists of 8,000 wastepickers.
Plastics For Change Makes a Difference Across the Supply Chain
Plastics For Change provides companies access to high-quality, price-competitive, recycled plastic while protecting the vulnerable wastepickers who work at the bottom of the pyramid in developing countries. The company is revolutionizing the informal recycling economy at all levels in the supply chain by providing a process and mobile platform that stabilizes the price of plastic, connects companies with a consistent supply of competitively priced, high quality, recycled resin and reduces carbon emissions worldwide.
"It's a win-win for all involved," Almack says. "Businesses benefit from a price-stable, transparent, environmentally-friendly supply chain. Wholesalers benefit from guaranteed profit margins. Wastepickers benefit from fair treatment and higher, consistent wages. And the world benefits from fewer carbon emissions."
Doing Well and Doing Good
In creating transparency and stability in an opaque and volatile supply chain, Plastics For Change empowers companies to make a profit while making a difference. SAP Ariba shares this purpose. In addition to its mission to make procurement awesome, the company has a higher cause to improve lives. And it's using its business network and the cloud-based applications delivered on it to achieve both.
Collectively, the Global 2000—75 percent of whom are connected to the Ariba® Network—spend $12 trillion on goods and services annually. "These companies have the buying power to ensure they provide fair labor practices across their supply chain and that they make opportunities available to minority- and women-owned businesses, while also assuring that no slave labor is being used to make their products. And this is what SAP Ariba is hoping to inspire them to do," says Alex Atzberger, president, SAP Ariba.
Upon learning of this, Plastics For Change joined the Ariba Network as a supplier. "We now have direct access to the world's largest network of procurement managers who want to build supply chains that are socially and environmentally responsible while also contributing to the financial bottom line," Almack says. "Our solutions give them the transparency they need to drive their objectives, and SAP Ariba makes it easy for us to offer them and expand our ability to execute change worldwide."
There is power in purpose. It inspires and enables people to reimagine and reinvent what is possible and achieve great things. And Atzberger firmly believes it is what will take procurement to the next level.
"In the old days, the chief purchasing officer who said 'I can save us three percent on our annual purchases and streamline our supply base,' rose up. But times have changed," he says. "Today, it's the CPO who says "I can lift a man, woman or child out of forced labor" who ultimately moves forward.
To learn more about how SAP Ariba can help your organization procure with purpose, click here. For more on Plastics For Change, visit www.plasticsforchange.org.
Companies in this article