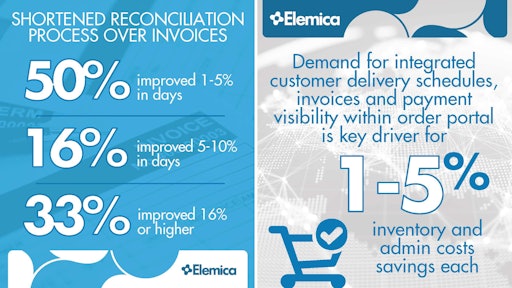 The results from Elemica's Collaborative Order Management survey of chemical industry suppliers offer insights about how clients use Elemica's order management and logistics solutions—and the value received.
Survey results showed that industry leaders achieve significantly more benefits the more automated and collaborative connected trading partner processes they deploy. Therefore, digital transformation of the supply chain helps chemical companies and its suppliers collaboratively recognize substantial financial rewards, boosting profitability while improving customer service and satisfaction.
"Synchronizing business processes and information flow between companies helps chemical companies and their trading partners gain a significant competitive edge," said David Cahn, director of product ,arketing, Elemica. "By continuous innovation and digitizing the supply chain connections across orders, shipments and financial processes, chemical companies and their trading partners can accelerate their path to digital transformation by introducing an ecosystem of business processes that saves time and reduces labor costs."
To succeed in the chemical process industry marketplace, leaders find that the more trading partner business processes that are connected, the greater the benefits. Expanding connected functions beyond basic order capture and order changes is the path to success and leads to fewer errors, time and costs according to the survey. When trading partners are digitally connected and collaboratively working together, benefits are achieved for all involved.
Other key findings in Elemica's Collaborative Order Management survey include:
Integrating transaction documents with trading partners resolves issues up to 15 percent quicker.
Further integrating invoices and payments showed improved order-to-cash cycles by 1-5 percent in terms of days.
Thirty-three percent saw an improvement of 16 percent or higher in days of shortened reconciliation process over invoices; 50 percent saw an improvement in 1-5 percent
Consolidating customer order channels using discovery and community connectivity saves time and improves revenues by 6-10 percent.
Demand for automated customer delivery schedules, invoices and payment visibility within the business network is a key driver for savings of 1-5 percent on inventory and admin costs, each.
Shipments and delivery visibility achieves 1-5 percent savings on inventory, while improving customer service.
Supply chain visibility into exceptions and messaging is the highest priority for serving customers better.
Companies in this article