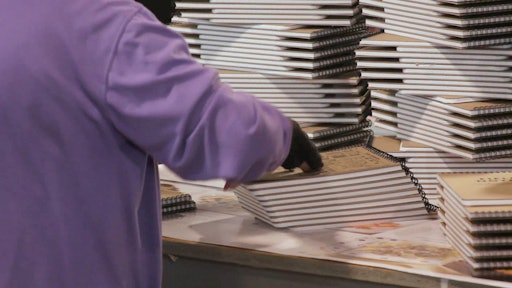 Typewriters, laptop computers, smartphones. They all have one thing in common: a keyboard. But before the written word was simplified in type, there was good old pen and paper.
The days of elegant hand-written letters and dear diary entries may seem long gone, but a nostalgia for script still lingers. The Chicago-based Field Notes Brand is proving that with their line of American-made notebooks. Inspired by vintage agriculture memo books, pen on paper is making a comeback.
Since the turn of the 20th century, promotional memo books have been a staple in the back pocket of the American farmer. Often distributed by seed, tractor and other agricultural companies, the pocket-sized notebooks offered a convenient space for notes or records, with some even including reference sections offering details on planting or harvesting.
In 2006, Field Notes' business partner and avid memo book collector Aaron Draplin created a small batch run of the original Field Notes craft graph edition, and sent them out to friends as Christmas presents. One of the lucky recipients, Jim Coudal, owner of the design firm Coudal Partners, was so fond of the holiday gift he reached out with a business opportunity.
"Jim called Aaron and said, 'We love these. We think we can sell these,'" recalls brand manager Michele Seiler. "So we did a small run, built a website and threw them up. Three weeks later we sold 14 packs in our first day, and we haven't looked back."
Field Notes is now in 1,500 stores worldwide, with 99.9 percent of retail locations independent Mom and Pop stores. "They are our local marketing folks. They care about how our notebooks are displayed, and they know the history of Field Notes and are able to tell the story. In that way, they're our brand ambassadors," Seiler adds.
American Traditions
Though the notebooks are sold worldwide, Field Notes has that local feel only a truly American-made product can. Inspired by a tradition dripping in red, white and blue, Field Notes sources everything from the staples to the shrink wrap in the United States and manufactures the product at four or five different printers in the Chicagoland area.
"From the beginning we said that we were going to manufacture in the United States, using U.S. materials, and we have continued to do so," says Seiler. "The vintage agricultural notebooks that inspired Field Notes are an American product, very much part of the American printing history, and we felt strongly that it would be important to print our notebooks in the USA and continue on that tradition of American printing."
Field Notes are printed with soy-based inks, and a lot of papers they use are recycled. French Paper, which is a family-owned boutique paper company out of Niles, Michigan, is a company favorite, as well as other U.S.-based suppliers, such as Mohawk and Neenah.
In addition to their classic designs, Field Notes offers limited editions four times a year. Here Seiler says designers are given "a creative playground," with freedom to choose different themes, printing styles, papers, etc. They also are able to work with a wide-variety of business and manufacturers, including screen printers, foil stampers, letter pressers and embossers.
For example, one of the editions, called the Ambition Edition, was a small calendar and a planner with gilded edges like a Bible. Their typical printers were not equipped to handle the unique request, so Field Notes went in search of a U.S.-based company who was.
"We found a company in Indiana whose main job is to gild Bibles. We had them gild the edges for us," Seiler explains. "It's been kind of fun to meet different U.S. manufacturers or people that offer different processes who can help us put our notebooks together."
Quality at a Cost
It's a familiar tune: you get what you pay for, and that holds true for Field Notes. Because they have chosen to adhere to a strict American-made policy, production costs are higher than if the notebooks were produced elsewhere. As a result, costs are little bit higher, though Seiler firmly believes it is worth it.
"We are very careful about quality control…and making sure we are producing a quality, well-designed product that looks great. Having that (product) made in the USA is a big part of it," she explains.
Another factor at play is the personality the Field Notes brand has created not only through its commitment to American manufacturing but a tagline that has struck a chord with their customers.
"We hit (the market) right at a time when everything was going so digital, so quickly," Seiler adds. "Field Notes is so deliciously analog. It's kind of back to the old school way of doing things and not typing into your phone but writing something down into a little notebook.
"There's science behind it too. You're more likely to remember it when you write it down as opposed to typing it into a phone. That's kind of where our tagline came from, which is, 'I'm not writing it down to remember it later. I'm writing it down to remember it now.' I think that really caught people's attention."