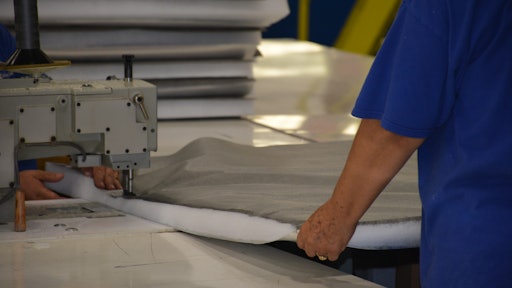 Stitched with love may sound a bit farfetched coming from a manufacturer, but for QProducts and Services (QPS) nothing could be truer. QPS manufacturers passive thermal protection products, which protect temperature sensitive commodities in transit for the pharmaceutical, food, beverage and chemical markets.
Their most popular passive thermal protection products include PalletQuilts, CargoQuilts and ThermaPaks, which are all produced at a recently renovated facility near Chicago, Illinois. Part of the 20-plus companies parented by family-owned LANCO International, most recognized for Mi-Jack Products, QPS is proud of its rich American history.
"To us it's more than a quilt. We're giving temperature protection to industries that need solutions to better retain product freshness. Plus, these products are quality-made in the United States by skilled employees," says Paul Yadron, vice president of sales at QPS.
Adds Kevin Lynch, director of sales, food and beverage, at QPS, "Jack Lanigan Sr. made manufacturing a top priority when he founded the company in the early nineties. He believed that if we were going to put our name on something, we should control how that product is produced. That was really important to him."
And because QPS manufactures everything in house, they do have total control—start to finish—and with that, the flexibility to offer customized solutions for their customers. Backed by the strength of LANCO International, they have ample resources to react quickly and sustain future growth.
Yadron believes you control your own destiny in manufacturing, and maintaining every aspect of their supply chain locally —from sourcing to shipping—plays a large role in providing a quality product for QPS customers. "People like seeing our product is made in facilities that are pristine, and that quality controls are consistent," he adds.
Lynch notes that QPS customers also like knowing they can visit and see the products and understand firsthand how they are manufactured.
Automation Is Not the Enemy
QPS continues to develop cost saving solutions for transporting temperature sensitive commodities every day, with a game-changing line of new proprietary passive thermal protection products set to hit the market later this year. The manufacturer also has expanded its product line to include innovative internal trailer smart locks and wireless temperature monitoring technologies—but it's bread and butter remains its handmade quilts.
Consumer demand for fresh perishable goods, which often comes with temperature sensitivity and regulatory pressure due to the implementation of the Food Safety Modernization Act (FSMA), has created a growing demand for the products QPS offers. And with that growing demand, came room for improvement.
About three years ago QPS invested in automation with state-of-the-art sewing machines to boost efficiency. Automation can be a scary word to skilled laborers, but once QPS employees understood the need for automation, they quickly got on board.
"Adding automation in the flow of manufacturing really improved operations and the wellbeing of our employees," Yadron explains. "Once employees understood the need for automation because the company was growing, they were excited because it meant more job security."
And not only has QPS' growth provided more job security, it continues to create more job opportunities. The company has grown from just under 30 employees to more than 70 in the last few years.
"The machines increased efficiency so much that we needed our industrial sewers more than ever," Yadron says. "There is a skill level to the industrial sewer that is irreplaceable."
Manufacturing today may not be what it was 20 to 30 years ago, but it still exists in American communities like the one QPS calls home.
"We are always looking for ways to improve our manufacturing process, and while manufacturing has changed over the
years, it is still here, providing great jobs," Yadron says.
"Yes, there's automation; yes, there's new ways of doing things. But it's to improve the process and provide jobs," he adds. "It's important our customers know we can react quickly to meet their needs, and automation combined with skilled employees, gives us the ability to exceed expectations."
Home Grown Opportunity
Manufacturing state side can come with its challenges, but QPS only sees opportunity. "Our business is growing because the passive thermal protection industry has seen more acceptance amongst shippers, carriers and logistics providers as an alternative option to secure product integrity," Yadron says.
And above all else, U.S.-based manufacturing means creating jobs in the community and giving people opportunities close to home.
"Manufacturing is alive and well in the south suburbs of Chicago, providing jobs, producing quality products and ingrained in the community and its continued growth," adds Yadron.