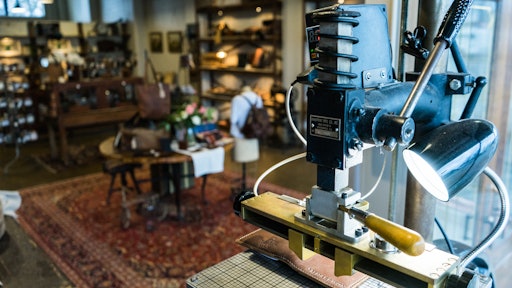 Inventor and industrial titan Henry Ford once said, "Failure is the opportunity to begin again, more intelligently."
The story of the Huntsville, Alabama-based Holtz Leather Co. is a prime example of that notion. The family operated leather crafter of wallets, journals, portfolios and other items, began in 1997 and has grown steadily with a focus on American craftsmanship and quality.
"Holtz Leather began after a very low point in our lives," says owner Rick Holtz. "We had lost a business, our home and nearly become homeless. Searching for our next step was difficult with several failures behind us. We didn't know really what direction to take; we only knew we wanted to make a tangible product with our own hands, something we had full control of from the design and quality to production and packaging."
With a dream hatched, Rick and his wife Coleen began to teach themselves the leather trade. "We poured into reading and watching how-to videos and taught ourselves the process from the ground up," he recalls.
The couple first experimented by listing a simple product on Etsy—a single rivet keychain. Sales quickly began to grow, as well as their confidence. "Slowly we started adding more complex leather goods and building on the foundation that we can teach ourselves how to do anything," Holtz adds.
Their do-it-yourself principles allowed the company to start small and stay committed to quality, growing into more than 30 employees in two separate facilities. In November 2017, Holtz Leather also opened its first retail location in Huntsville.
Quality Over Cost
It's not a new concept. American manufacturing is more expensive. But for handmade fine leather goods, having the ability to handle each and every item that bares the Holtz brand, the owner says, is worth it.
"Viewing ourselves as storytellers just as much as leather craftsmen we want the story that we pour into our leather goods to be as rich a chapter as possible, from start to finish. Choosing to craft all of our goods here in the United States gives us the greatest control and influence over our story," explains Holtz.
He adds: "American manufacturing for us is about quality, honor and hard work. Stamping each of our products with 'Made in America' is our commitment to the highest quality possible both to our team and to our customers."
In addition to storytelling, family is another fundamental pillar of the Holtz Leather values. "We never want our business to take away from family, so by keeping all our manufacturing here in Alabama we are able to maintain those strong bonds of family," Holtz emphasizes.
A Lesson in Leather
All Holtz Leather products are handmade in Alabama with full grain American leathers. Full grain refers to the top layer of the hide that contains all of the grain. The surface of full grain leather softens and becomes more visibly appealing with age, and is considered the highest grade of leather.
There are three additional grades of leather: top grain, genuine and bonded. Top grain is split from the top layer and then sanded and refinished. Genuine leather is usually spray-painted to resemble a higher grade, and bonded leather typically comes from China. It is leather that is ground up like meat and glued together.
Holtz Leather hand picks its leather hides from an American tannery that has been in operation for more than 150 years. Like the company itself, the leather tells a story with real life markings, which may include bug bites, scars and fat wrinkles.
"We are seeing a shift in our culture where people want to be a part of a story that lasts," adds Holtz. "Every product that leaves our workshop tells the story of quality craftsmanship. From the American steer that was raised on an American ranch to the American tannery that prepared the leather for our American workshop, all these steps tell the story of American hard work that this country was founded."
Follow Amy Wunderlin on Twitter.