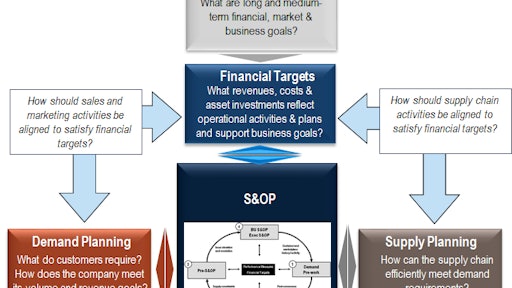 Improved planning is a key to continuous improvement, and we are seeing top-performing companies across many major industries and sectors evolve beyond traditional sales and operational planning (S&OP) to more integrated business planning (IBP) (see Figure 1) to better:
Bring together and align demand, supply, and financial plans and targets.
Drive a collaborative decision-making process that balances functional goals and constraints.
Define joint actions to achieve the overall business plan.
The good news is that technology supporting IBP is evolving as well, allowing companies to migrate away from spreadsheet solutions toward software solutions that enable integrated forecasting, planning, reporting and analytic capabilities. The challenge, though, is to figure out which IBP technology solution is best suited for your company.
In recent years, we saw a number of trends in the marketplace tied to IBP-related technology and data:
Organizations are developing global supply chain strategies instead of simply optimizing at the local level. These strategies inform the business requirements of an IBP solution and ensure that the right tool for the right job is selected.
Organizations are increasingly pursuing an integrated supply chain planning process that is enabled by end-to-end data and systems integrations with suppliers and customers.
Industry leaders in IBP are effectively migrating away from spreadsheet solutions and toward more integrated software solutions that better enable statistical demand forecasting, what-if demand analytics and reporting, exception management and forecast aggregation/disaggregation.
Organizations are increasing their use of real-time downstream data and demand-sensing technology and near-term information to refine short-term forecasts by item and distribution center.
Organizations are working to achieve unified data models and better integration of technology platforms to support advanced planning and analytical capabilities, including demand shaping.
Cloud platforms are increasingly available in the marketplace to support IBP.
Software companies are developing solutions that move beyond legacy demand and supply planning tools to a more comprehensive IBP model that incorporates profitability.
A common question is what the best path forward is for selecting the right IBP technology for your organization. To increase the likelihood of success, organizations should think of total solutions, not just technology, and thus keep the desired end in mind across process, people, data and technology.
By successfully selecting and implementing the right IBP technology solution that meets the requirements and planning capabilities of the overall desired IBP program, organizations can realize significant benefits, such as reduced costs, improved service levels, increased revenues, enhanced inventory deployment and better visibility among business groups throughout the organization (see Figure 2).
If implemented effectively and run efficiently, IBP can be a powerful tool for driving vastly improved business results and creating a sustainable competitive advantage in the marketplace. Leading organizations are moving beyond spreadsheet solutions and manual labor as the cornerstones of their IBP programs, and increasingly leveraging the vast array of IBP technology solutions available in the marketplace. By combining IBP best practices, the correct IBP governance structure and an IBP technology solution optimal for the requirements of your organization, a leading IBP program is within reach.