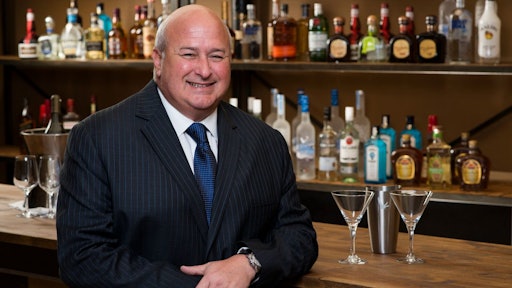 For a complete list of 2017's Pros to Know, please click here.
The definition of leadership to Bobby Burg is getting a bunch of people to do something that, on their own, they would not have normally accomplished. And like all great leaders, Burg is quick to pass individual recognition on to his team. Among his significant achievements as a supply chain innovator, his team-first mentality is one of the many traits that sets him apart from his peers, earning him the title of Supply & Demand Chain Executive's Pro to Know of the Year.
"I appreciate the individual recognition…but I really feel like this is a positive thing for our industry and our company in particular," says Burg. "This is a great opportunity for people on our team to see that other people recognize their hard work and really see that they're making a difference out there."
Today's supply chain requires leaders who can rapidly respond to constant change in order to fashion resilient supply chains that can adapt and manage risk in an ever-changing global economy. Identifying and recognizing these leaders and bringing their achievements to the forefront is a mission Supply & Demand Chain Executive takes very seriously. Every year, our staff sifts through hundreds of entries—more than 300 in 2017—to find the best and the brightest leaders in the supply chain. These leaders become the Supply & Demand Chain Executive Pros to Know.
Once we narrow this impressive group of nominations, our job becomes even tougher—we then must select our Pro to Know of the Year. This individual is the one who rises to the top of a long list of accomplished supply chain leaders and embodies the attitude, business acumen and exceptional leadership skills we see in an award of this distinction.
Burg, senior vice president of operations and chief supply chain officer, Southern Glazer's Wine and Spirits, has led a supply chain transformation of the company that has revolutionized alcoholic beverage distribution. This transformation helped to enable a smooth combination between Southern Wine and Spirits and Glazer's Distribution Company, to form the current Southern Glazer's Wine and Spirits business. Under initiatives led by Burg and his team, Southern Glazer's is now North America's largest distributor of wine and spirits, and the pre-eminent data insights company for alcoholic beverages.
A One-Stop Shop
Burg and his team manage a supply chain that delivers more than 153 million cases of wine and spirits annually, to more than 250,000 customer accounts. He does this in the complex industry of alcoholic beverage wholesaling, which is governed by a vastly complex three-tier distribution system, across 45 states, each with their own unique alcohol distribution laws.
As the company has grown, operating in 12 states in 2005 and expanding to 45 by 2016, Burg and his team have worked to build an industry-leading and highly automated supply chain capability that has been able to accommodate this rapid growth while at the same time finding ways to deliver greater value, efficiency and insights on a national scale to its suppliers and customers—something no other alcoholic beverage distribution company in the industry can do. He's done this by effectively evaluating risks and building an exceptional team of in-house supply chain talent.
"With nearly 40 years of continued growth, we're changing the industry in a way that really hasn't been seen before, which is creating a lot of angst with our competitors as to how they can compete," Burg says.
On the supply chain side, Burg and his team have made a major investment in creating a sales and operations planning (S&OP) process that he says "brings in our marketing staff in the field to help us forecast in a national way in treating our vendors and suppliers versus on a state-by-state basis, which has created an ability to have a one-stop shop where vendors and suppliers can come to one place and talk supply chain, shipping and sourcing," says Burg. "By centralizing and creating this platform foundation, it's now a one-stop shop, and we can answer those questions for everyone."
The supply chain team's key focus in the year ahead will be the continued integration of its end-to-end S&OP process. While this may not seem revolutionary in typical supply chain circles, it is extremely unique in the beverage alcohol distribution industry. In this model, Southern Glazer's S&OP process has to include hundreds of suppliers and more than 250,000 customer accounts, and accommodate operations that vary from state to state, depending on local alcohol distribution regulations. Completing this integrated, demand-based process is a game-changer, not only for the company but for the industry.
As part of the implementation of S&OP this past year, Southern Glazer's went live with a new JDA purchasing platform and Steelwedge demand planning technology platform – both of which were subsequently integrated into the company's SAP system. Following that integration the team built new process changes around the software, including new demand and sales planning processes. They also established new tier-one and tier-two metrics, including days-on-hand, turn rates and fill rates. In addition, the team aligned supply chain compensation programs to the new metrics to incentivize success. As a result, the team is 50 percent toward achieving their 24 month goal of right-sizing the company's inventory to be more demand based.
Take a Chance
Understanding the role of risk in decision making also has been critical in determining the company's supply chain strategy. Burg understands that sometimes you need to take risks to reap rewards.
"I think a lot of people get comfortable in their environment and their culture," says Burg. "When you introduce change and new things, there comes a little risk, and managing that risk so you can reap the bigger reward is a big part of accomplishing your vision and your strategy in the long term."
He's demonstrated this for example by consolidating multiple distribution centers in Florida into one facility. Having one facility does present some risk, but the rewards have far outweighed those risks to the company so far in terms of efficiency.
"We've gone through a really detailed rationalization of our operating division in the marketplace and created opportunities with material handling equipment and other efficiencies with software to really reduce or footprint while improving our service," he notes. "Today, we have about the same amount of square footage in facilities as we did 5-8 years ago, but we're 20 percent larger."
And with taking risk, Burg believes comes the mentality that where you are at is never your best.
"We get very complacent when things are going well…so whether things are going well for you or whether your horizons are dark, my opinion is that you always have to reinvest in the processes and relook at them," the Pro to Know explains. "You've got to get out of your office and get into the field. You've got to spend some times in warehouse and on trucks and with sales people and with customers, so you can really understand what they need in order to consider you as a preferred provider of the business you're in."
Invest in Talent
Burg also has focused on hiring competent, self-driven innovators who can operate in a large distributed network. The team is empowered in the field to make decisions and this has led to the ability to quickly respond to the needs of the business. This talent strategy also has included taking more control over the company's ability to analyze and make decisions regarding automation. By having its own engineers and technical teams on staff, the company has cultivated an expertise on supply chain technology and automation for beverage alcohol distribution that has become a center of excellence for the industry. In fact, other wholesalers and states that control beverage alcohol distribution use Burg's team to help them evaluate their own automation projects.
"My key advice is to invest in a good team. We have a lot of talent from outside of our industry who've come in and taken over certain roles that have helped bring new ideas to the table and helped to refresh our industry in a way that helps us attract really motivated people who are not tied to the past but are looking toward how to do things better in the future.
Burg added: "Hire the best talent, train them as best as you can and then let them go. You give them the job; let them go do the job. Don't micromanage and box them in, but let them go out and innovate and really see what they can do."
Cost and Value Are a Balancing Act
As a leader in logistics for alcoholic beverages, the supply chain strategy and corporate strategy are always aligned. The company marries its commercial and supply chain strategies so it is able to effectively market the brands it represents and deliver the products its customers' need. Achieving this alignment is the result of having the supply chain team "at the table" at the leadership level. It is viewed as a key differentiator and growth enabler for Southern Glazer's and part of the company's service delivery.
The third generation beverage man believes his focus on balancing the cost with the value is what has kept corporate, commercial and marketing staff on board with many of initiatives, allowing him to take the risk necessary to earn a big reward at the end.
"Supply chain a lot of times gets this wrap that the only thing they're there for is to make things more efficient and less costly. And what I try to instill in folks around the country and in my own department is, 'Yes we have to do that, and it's obviously a core foundational thing within our organization, but the bigger piece is where does supply chain really change the value proposition and make doing business with our company more valuable to them?' So looking more outwardly than internally and being a cost saver. I like to focus more on really creating a value and the way that value can create a preferred vendor relationship with our 200,000-plus customers."
Going forward, Burg hopes to continue down the path his team is already on, comparing Southern Glazer's with not only their direct competitors but larger competitors in general consumer goods.
"We want to be prepared for whatever comes down the road from a competitive landscape—whether that be from online retailers like Amazon or whether it be other nontraditional companies who decide the spirit space is an opportunity for them. We want to create such a barrier to those folks that it would be difficult to move from one place to another," he adds.
For a complete list of 2017's Pros to Know, please click here.