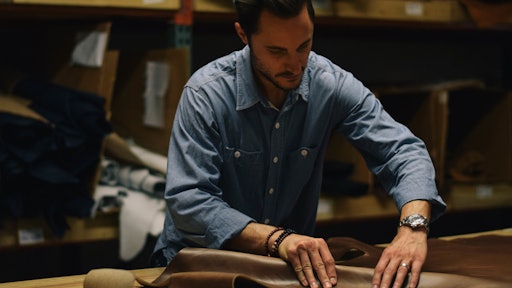 Fine leather shoes often are accompanied with thoughts of designer Italian brands. But American shoe manufacturing has a rich history of its own.
When George Vlagos founded Oak Street Bootmakers in 2010, preserving that legacy was his top priority.
"We pride ourselves on preserving the heritage of fine American shoemaking through thoughtfully designed and meticulously crafted footwear. All of our shoes can be recrafted and are designed to last a lifetime," says Vlagos, who was inspired to take up American manufacturing after growing up working in his father's suburban Chicago shoe repair store.
Vlagos' father immigrated to the United States from Greece, where he quickly established his own shoe repair. There, Vlagos said he "naturally…fell in love with footwear.
"I remember watching my dad as he would completely take apart a shoe—relast the uppers, rebuild the cork footbed, replace the welt, midsole and sole—and return essentially a new pair of shoes to his customer," he recalls. "Growing up, I polished shoes in the shop, but as I grew older and fell in love with shoemaking, my father taught me the craft."
History in the Making
Beginning in the mid-18th century, shoemaking in the United States was a specialized trade for cobblers who emigrated from Europe. Many of these bootmakers and shoemakers set up shops in their homes, purchasing leather from local tanneries and using hand tools to make shoes.
Following the Revolutionary War the nature of shoemaking in America changed as the newly founded country's population quickly rose, creating a rapid demand for shoes and the need for mass production. Cobblers or shoemakers then became craftspersons and began to specialize in making only one part of the shoe, such as making the sole or attaching the sole to the upper part of the shoe.
As the country entered the 19th century, factories appeared that were dedicated to only one step of the shoe manufacturing process. Then, machines were used to stitch uppers to the soles rather than stitching the shoes by hand.
The advent of the Civil War further increased the demand for fast and cheaply made shoes. By the end of the 19th century, shoes could be made in a fraction of the time it took to make a pair of shoes by hand, and by the 20th century, the shoe manufacturing process was divided into 150 distinct steps.
Today, many of the world's shoes are produced in China. The mass produced shoes customers are buying from China and other foreign markets may come with reduced price tag, but often they can only be worn for a short time.
Vlagos' experience with this trend toward foreign-made footwear was a major influence in his journey toward American manufacturing.
"Working alongside (my father), I saw that fewer customers were bringing in finely crafted, leather soled shoes for him to repair," he explains. "Rather, they were looking to get a little more life out of inexpensive or poorly made shoes. That is what initially sparked the idea to start manufacturing high quality footwear in the United States."
A Dying Art
In 2010, American shoe manufacturing was very much a dying art. What once was a thriving industry slowly was outsourced overseas in return for cheaper labor. Fortunately, U.S.-based manufacturers have seen a renewed interest in handcrafted and locally-sourced products in the last few years. From apparel to food, consumers are demanding a level of quality that Vlagos agrees may only be found on American soil.
"Because we're not churning out products nonstop, our shoes stay in our hands longer than other manufacturers, ensuring that everything we make meets our quality standards," says Vlagos. "Ultimately however, our product speaks for itself, and American manufacturing is evident. When customers purchase Oak Street Bootmakers footwear they can be confident that they are purchasing a pair of boots that will last."
All Oak Street shoes and boots are handcrafted in the United States by shoemakers with over 20 years of experience. The highest standards of production are employed to yield shoes that are as durable as they are comfortable. Each pair makes use of replaceable outsoles, a feature normally reserved for formal footwear, to ensure a lifetime of wear.
And to Vlagos, American manufacturing is synonymous with longevity.
"We pride ourselves on building a product that not only looks great, but one that with basic care, will provide you with years of comfort and wear," he says. "All our products are completely recraftable…When a sole wears out, and/or heels wear down, send them back to us and we'll put the same focus and attention to detail on the repair that we put into originally making the boots. Recrafting makes your old shoes new once again, giving you many additional years of wear."
Oak Street shoes and boots are constructed from renowned Horween Chromexcel leather, undergoing 89 separate processes, taking 28 days and utilizing all five floors of the Horween facility in Chicago. Keeping in line with traditional American shoemaking, little has changed in the century old leather formula, which is made from a combination of food-grade beef tallow, cosmetic-grade beeswax, marine oil, chrome salts, tree bark extracts and naturally occurring pigments. The mixture is applied using heat, steam pressure, the hands of craftsman and time, ultimately yielding a soft, supple and durable leather that is used to make Oak Street's shoes or boots.
"We have been able to garner a group of dedicated, hard-working and talented craftsmen and women who keep the art alive," says Vlagos. "Each day, these craftsmen work to make the absolute best shoes. Without them, we wouldn't be able to do what we do. We have a deep sense of pride for keeping our manufacturing in the USA."
Additionally, as a small American company, Vlagos believes not only the quality of Oak Street shoes sets them apart in the apparel industry's highly completive market, but also its ability to offer top notch customer service.
"From a customer service standpoint, if you have a question or a concern, or just feel like chatting, you can be confident that you're going to be able to speak with someone from our team with ease," he adds. "This allows for great interaction with our customers, and ultimately, helps us to better cater to them."
State Side Advantages
Manufacturing in the United States can be quite difficult, but many apparel manufacturers are finding the pros to remaining state side are outweighing the cons.
"As a company that uses American made components for each aspect of the shoe, we often hear that many of the companies who once made components that we are looking for have long shut their doors," notes Vlagos. "With that said, it makes the relationships with our suppliers much more intimate. There is an eagerness and passion to build back much of the footwear landscape that has disappeared."
Oak Street Bootmakers has no plans to move manufacturing overseas, and though they are a young company, they are excited about the future.
"When we talk about the type of brand we want to be, we reference brands that have been around for 25, 50, 100 years. So, although the past five years have been amazing, we certainly approach it as a marathon, not a sprint. As we progress into the future, we'll continue to develop new styles and expand our offering, while keeping high quality, American craftsmanship at the forefront of everything of we do."
Between manufacturing, a brick and mortar location, and their Chicago design and fulfillment office, the number of people who work with Oak Street Bootmakers on a daily basis approaches 50 people.
Though a full range of footwear is available online, Oak Street Bootmakers' brick and mortar store, Independence, located on Oak Street in Chicago, also sells other American-made brands.
"When we launched in 2010, our operation was quite small. Each year, we have continued to grow. All of this due in large part to our customers, who continue to spread the word about Oak Street Bootmakers."