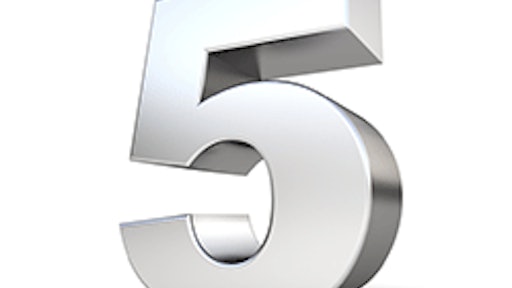 There's no secret formula for building a best-in-class procurement organization. Procurement's ability to truly impact the business and create transformative value depends greatly on the technology, people, relationships and processes in place. What works for each team differs depending on their unique needs and business objectives, and with so many tactics and tools to choose from, it can be hard to decipher where to start and how to get to a place where you're delivering tremendous bottom-line value for the organization.
Success often starts with having the right team and strategy in place. Supply management research firm Ardent Partners recently conducted a survey that looked at the traits and characteristics most common in top-performing procurement teams. Based on a survey of 330 accounts payable and procurement executives, five traits stood out:
1. Strategic Thinking
In an increasingly complex business landscape, strategy should remain at the center of every decision. Increased collaboration, engagement and alignment across all aspects of daily operations are foundational for best-in-class procurement teams. Ardent Partners found 78 percent of top procurement teams increased executive engagement in decision-making and strategy, and 62 percent have a strategic procurement plan that clearly links back to business objectives. Understanding where you want to go, developing a solid strategy for getting there and championing stakeholders that can help you get there is the first step toward transformational procurement.
2. Great Talent
Seventy-seven percent of procurement teams credit their talent pool for improving supplier performance. High-performing organizations also put a strong emphasis on talent development: 71 percent focus on increasing business skills training, 62 percent on active mentoring, and 56 percent on increasing software and technology training. Without a smart, dedicated and trained team on the front lines, delivering impactful results for your business can be a lot harder, if not impossible.
3. Operational Excellence
Automation can greatly improve value-generating procurement performance. By standardizing processes and linking tasks, especially with spend analysis, teams are able do more with less and can reallocate the time spent on more tactical activities to focus on more strategic initiatives that move the business forward.
4. Embrace Technology
Technology plays a key role in improving procurement performance. Through automated systems—spend analysis, contract management, supplier performance, e-sourcing and e-procurement—procurement teams can add tremendous value to their organizations. Ardent Partners' research found that, across the source-to-settle process, the best-in-class use automation more frequently and effectively.
5. Focus on Results
Procurement teams looking to unlock value for their organizations closely track spend under management. According to Ardent Partners, best-in-class organizations placed 91 percent of spend under management, on average, which is 59 percent more than their peers. Identifying the objectives most important to your business, understanding which metrics you need to track to get there and continuously working toward those key performance indicators can set you up for success.
Keeping the supplier at the center of the procurement process is key in aligning all of these factors. Similar to other tools, like Salesforce, in which a customer-centric model is the foundation for maximizing and delivering business value, focusing on the supplier helps ensure teams are getting the most out of their purchasing activities and ensures smooth delivery.
Every organization has unique goals and aspirations, and the technologies, people and processes they use look different depending on what these objectives look like. To learn more about how many teams are achieving best-in-class procurement performance, please check out the full survey findings here: Building a Best-in-Class Procurement Operation.