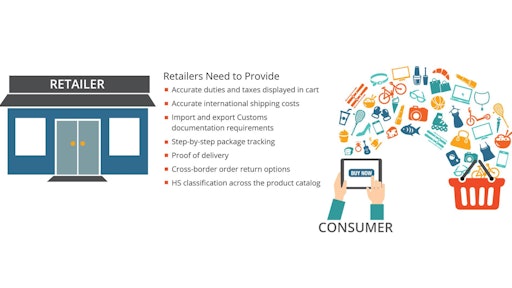 If you're a retailer that is not already engaged in international e-commerce, you are late to the game, but there's still time to plan your strategy. Shopping online directly from overseas retailers is growing in leaps and bounds, particularly in emerging markets, where consumers find it hard to locate affordable imported products in local shops. Accenture predicts global business-to-consumer (B2C) cross-border e-commerce will balloon in size from $230 billion in 2014 to $1 trillion in 2020.
According to new data from Rubicon Project's second annual Holiday Consumer Pulse Poll, nearly one-third of consumers and nearly half of parents began holiday shopping before Labor Day. Additional findings include:
Americans plan to spend, on average, $1,175 this holiday season, a 12 percent jump over last year.
When it comes to where and when they may spend, the survey found that 73 percent of respondents plan to shop online this holiday season and more than one out of three plan to shop on mobile devices.
A surprising 22 percent of shoppers (and 28 percent of millennials) do not plan to shop in store at all this year.
Online and mobile-only shoppers tend to be millennial males, and are most likely to be shopping for gift cards (64 percent), apparel/accessories (57 percent), toys (46 percent) and technology (37 percent).
Currently, the majority of shopping activities take place domestically. However, studies indicate that consumers are moving beyond their own borders to obtain the products they desire. According to a 2014 Pitney Bowes Global Online Shopping Study, nearly 40 percent of consumers purchased goods online from another country. The U.S., U.K. and Germany top the list of most desirable cross-border e-destinations.
With a constant focus on revenue growth, companies should be mindful that more than half of the world's buying power resides outside of the U.S. For example, e-commerce in Asia-Pacific countries increased 30 percent in 2013 compared to 13 percent in the U.S. marketplace. Another factor to consider is the growing middle class in highly populated countries like China, India and Brazil. E-commerce provides a compelling opportunity for businesses to reach these pockets of growth. A recent U.S. Small Business Administration survey identified that 63 percent of small businesses are interested in growing their global e-commerce efforts, and the Brazil, Russia, India and China (BRIC) countries are an excellent place to start.
With Opportunity Comes Challenges
More and more of your customers are buying goods online every day. And whether they're located in the same geographic region or on the other side of the globe, providing your customers an exceptional experience that manages the complexities of cross-border shipments is crucial for success. This explosive growth convinced many companies to embrace e-commerce to fulfill the demands from customers all over the world who are seeking branded products that aren't available at local brick-and-mortar stores. However, these significant global sales opportunities also present the challenge to deliver a positive customer experience, while combating high shipping fees, hidden costs, inaccurate duties, import and export regulations, and product restrictions.
Cross-border commerce still has room to grow:
48 percent of companies now do business in more than 50 countries and 32 percent do business in more than 100 countries.
35 percent of companies now realize that more than half of their total sales are from customers located in foreign markets.
The opportunity to grow revenue with a global e-commerce play is significant, but consider the challenges, too:
Global supply chain and order fulfillment. With international logistics more costly and complex, firms must have an accurate method for determining the most cost-effective method of delivery.
Country regulations. Retailers and other e-commerce organizations must fully abide by specific trade laws that can vary by country.
Customs clearance. A major undertaking, organizations must fully understand all restrictions, duties, taxes and documentation requirements.
Technology. Integrating key features and providing an accurate landed cost at the time of order entry are essential to a positive customer experience.
While there is clearly a large market opportunity associated with global e-commerce, companies must address several challenges to the strategy. Retailers, consumer products companies, third-party logistics providers (3PLs), e-commerce marketplaces and others need to create a comprehensive plan, and should consider partnering with a solution provider experienced in global trade regulations and practices to address cross-border logistics challenges.
Businesses can strengthen their competitive advantages in cross-border e-commerce with a combination of technology, trade compliance knowledge and automation. With these capabilities, businesses can build their e-commerce strategy relatively quickly with the following:
Screening tools to determine if a party to the transaction is on a sanctioned party list, or if goods being shipped are prohibited or restricted in any way.
Automation tools to determine if shipments qualify for low-value shipment, or calculate and support a deliver duty paid shipment model from shopping carts.
A system for the proper classification of goods based on descriptions from product catalogs and the desired country of import.
Reliable, real-time order and logistics tracking systems for customers and customer support teams to monitor delivery to the final customer or door location.
Addressing these challenges is a great starting point for developing your strategy, growing revenues globally and delivering a positive global e-commerce experience for your consumers.