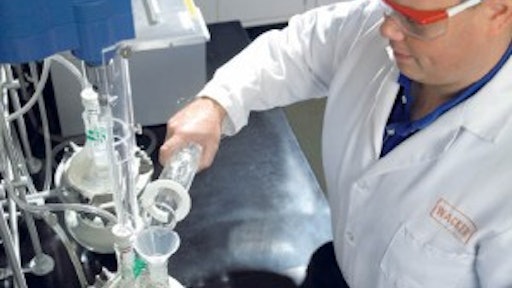 WACKER, the Munich, Germany-based chemical company, is known for pushing technological innovation and developing new products in the chemical and semiconductor sectors. The company, with 2008 sales of about $6 billion, also has developed a reputation as a forward-thinking organization focused on efficiency and lowering its costs of doing business while providing a superior customer experience.

Technology is playing a key role in WACKER's drive to maintain its leadership in the industry. As part of its efforts in this regard, the company has been leveraging a business process network operated by Elemica as its platform for supply chain process integration and collaboration.

Complex Supply Chain

WACKER operates in five divisions that manufacture products ranging from hyperpure silicon wafers for the semiconductor industry to surface coating resins, industrial salt, acetyls and insulation materials. Each business unit within WACKER has a supply chain director who is responsible for the "plan-source-make-deliver" process within that unit. It is notable that the supply chain is not a logistics function — logistics and procurement are centralized, whereas supply chain resides within the customer-facing business units.

With production locations and warehouses spread around the globe, the synchronization and coordination of the different units are critical to maintaining efficient operations and high customer service levels, according to Joern Mierke, director of supply chain management for performance materials at WACKER.

"We have to distribute customer orders across our production facilities in a way that maximizes capacity while avoiding logistics costs by sending the right production step to the right location, with consideration of the import duty implications," Mierke says. The company also must ensure that it stocks its warehouses around the world to meet demand on short notice while avoiding overstocking and material out of shelf life.

WACKER operates an SAP backend system to help automate and coordinate its own processes. Since 2001, the company also has been leveraging a business process network operated by Elemica to automate processes with its top customers and to facilitate mutual collaboration and increase customer satisfaction. Founded in 1999 by 22 leading companies in the chemical and oil industries, Elemica today offers a global, neutral information and transaction network that facilitates the order processing and supply chain management of contract and repeat chemical purchases.


Simplifying Connectivity

The chemical industry continues to be plagued with various message languages, formats and disparate systems, and order processing between trading partners remains challenging. For WACKER, Elemica provides a single channel for system-to-system connectivity with its trading partners. By maintaining one connection to Elemica rather than multiple point-to-point links with each of its partners, WACKER simplifies B2B connectivity for both itself and its customers, reducing complexity and cost.

Partners can connect to WACKER via Elemica regardless of which "flavor" of EDI or XML they use for their communications, since the Elemica network translates the messages into the ChemXML format before forwarding them directly into WACKER's SAP system. Similarly, the network enables WACKER product data, such as material and order numbers, to be directly translated into partners' systems so that they can be processed without encountering disruptions and without the need for rekeying data, saving both time and money for both parties to the transaction.

Regardless of whether WACKER acts as a customer or supplier to other Elemica-connected companies, all purchase orders, confirmations, order changes, delivery notes and invoices are integrated directly into the partner's ERP system. Processing steps are fully automated, from order placement to product packaging instructions.

An additional advantage that WACKER has found in using Elemica is that the network allows for connectivity with partners regardless of their level of technical sophistication. Moreover, Elemica acts as more than just a value-added network (VAN) or EDI provider; it ensures that data moving through the network conforms to a business process by enforcing "business rules" specifying the logical content of documents. "Each member accepts Elemica's business rules, which apply to everyone," Mierke says. "This enables us to meet high standards with reduced complexity."

Mierke notes that one key to success in automating B2B processes between companies is to collaborate closely with customers to find a connectivity solution that works best for them. "We work hand-in-hand with customer to pinpoint the best way to optimize business processes in terms of efficiency, quality and speed," he concludes.