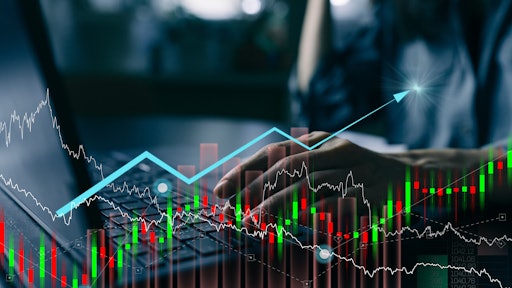 Leonid AdobeStock_501221203
A common thread remains this peak season—uncertainty. But, instead of planning for stockouts and unprecedented consumer demand, supply chain professionals should prepare for less consumption and more volatility.
Retailers and brands face difficult decisions after years of disruptions and macroeconomic challenges. Following bank closures, consumer pessimism and recession anxieties, volatility is everywhere.
● Eight in 10 U.S. adults expect economic turmoil in 2023.
● Six out of 10 believe prices will continue to rise while the stock market falls.
● Consumer sentiment dropped by 6.8% in May.
● Conference Board business expectations index lowest since 2011.
● Freight companies cut H2 2023 demand expectations as many retailers pause big orders.
This economic turbulence creates challenges for supply chain professionals.
Current Economic Headwinds Strain Forecasts
Forecasts predict the future based on past data. Because of the turbulence of the previous three years, forecasting is more challenging than ever. The pandemic and subsequent marketplace shifts wreaked havoc on yearly plans.
The average forecast error rose to 54% in 2020. Businesses exposed to extreme forecasting error jumped 38%, up over one-third from the 2019 baseline of 27%. Though some organizations' supply chains reverted to pre-pandemic era trends, forecasts are still at risk. And consumer demand continues to fluctuate.
Supply chain costs remain higher than pre-pandemic rates. Transportation accounts for 50-70% of U.S. logistics spend compared to 3-6% for facilities. Shoppers expect optimal delivery and speed increases transportation costs.
Because other disruptions remain on the horizon, forecasts are uncertain and businesses aim to reduce logistics spend. Organizations may over rely on traditional forecasts during uncertain periods, which creates more issues.
So, what can supply chain leaders do with demand forecasting up in the air and operations threatened by further disruption? They can improve decision-making and pivot to supply chain flexibility.
Pivot to Supply Chain Flexibility
Supply chain leaders adapt to changing market dynamics with flexible decision-making. That means redefining how they plan, forecast and act by creating options when disruptions take place or opportunities arise.
The faster leaders can reverse a decision, the faster they can mitigate downsides if something unexpected happens. These competencies allow leaders to make flexible, real-time decisions when reality deviates from forecasts. Businesses don't have to over-rely on past data to make future decisions—like warehouse node placement or third-party contracts.
Volatility breeds indecision and loss aversion. This concept is particularly critical during uncertain economic periods. Many organizations default to traditional, status quo forecasting decisions rather than innovating during economic volatility.
To get out of the legacy decision-making rut when conditions aren't favorable, leaders focus on impact and optionality. These are critical to implement flexible decision-making strategies.
A decision impacts an organization when it contributes to or detracts from strategic goals. Leaders assess impact by asking: How will the decision affect the business if it succeeds? Or if it fails?
It's also critical to understand a decision's optionality. How easy is it to adjust or change aspects of the decision? How reversible is the decision if things go wrong? These questions are crucial for supply chain leaders to ask themselves.
Here's What Supply Chain Flexibility Looks Like
Successful organizations plan for forecast deviations. And, they embed supply chain flexibility into the planning process.
More flexibility allows brands to rethink their logistics operating paradigms. Instead of getting caught in the old ways of thinking—rigid, immovable supply chains and forecasts—leaders adapt to any marketplace challenges. This notion of flexibility allows organizations to optimize their supply chains and capture greater market share. Companies that implement impact and optionality into their logistics processes outperform their peers.
Businesses that wield flexible supply chains quickly react to changes in demand during volatile periods. Flexible supply chain practitioners deploy inventory closer to manufacturing centers, retail locations and partner intake centers to replenish goods more efficiently and cost-effectively.
Instead of trying to predict the future, successful organizations instead focus on improving how they react to the unpredictable—combining speed, agility and scalability to meet modern demands.
The goal: make supply chain decisions—fast. And lean into strategies that allow them to adapt to changes in the marketplace quickly:
● SKU rationalization to ensure the most valuable inventory is in stock.
● Network optimization to reduce miles traveled and quicker replenishment of key demand centers.
● Avoid fixed CapEx located in less strategic areas with significant demand fluctuation.
● Operational nearshoring to avoid significant production shutdowns.
● Streamline warehouse square footage.
● Supplier diversification.
Companies successfully navigating today's market have already embraced flexible supply chain principles. They are subject to the same disruptions, but have found a way to save costs, lower risk and improve customer experiences simply by being able to make more nimble supply chain decisions.
Disruptions now cost 6-10% of average annual company revenues. Flexible and more diversified supply chains allow companies to avoid widespread disruptions that cut into bottom lines.
Supply Chain Flexibility Reduces Volatility
By implementing more supply chain flexibility, brands avoid significant misplaced CapEx. Traditional logistics requires rigid investment through infrastructure spend or contracts with third-party solutions. Instead of making big, fixed CapEx bets amid current economic volatility, leading organizations focus on flexible, tech-driven supply chain strategies.
These strategies create organizational flexibility and allow companies to stay ahead of economic turmoil. Flexible enterprises aren't building fixed supply chain infrastructure or signing long-term logistics contracts during uncertain periods. They are leaning into flexible solutions that allow them to pivot as conditions change, avoiding unnecessary supply chain expenditures and mitigating disruption in the process.