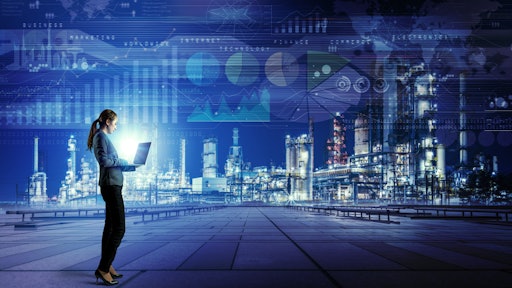 AdobeStock_182350781
The holiday shopping season is always a challenging time for businesses and the supply chains that support them by churning out products to keep up with spikes in demand. In 2021, however, those seasonable pressures are happening concurrently with enduring supply chain disruptions caused by the Coronavirus disease (COVID-19) pandemic, plus additional logistics complications stemming from natural disasters and social unrest in some parts of the world.
The result is a perfect storm of supply chain disruptions as businesses struggle with their supply chains. Here's how supply chain managers are coping with the strain, including strategies for resilience amid these multiple pressures.
Unprecedented disruptions on a global scale
The strains on the supply chain are tougher than they have ever been because we're not only seeing multiple disruptions simultaneously, but they each have worldwide impacts. It's like playing a global game of Whack-a-Mole; the moment one issue is resolved, another tends to arise that causes more bottlenecks.
For instance, the effect of port closures and disruptions earlier in the year is still causing problems as the holiday season spike arrives. That's causing many businesses around the world to project at least 6 months of recovery time before they can catch up to predictable levels of service overall. And, even those forecasts may not necessarily be accurate, as the projected timeframes are based on the assumption that no other significant disruptions will arise.
Unfortunately, the probability of calm supply chain waters returning anytime soon is low, as companies reckon with a new normal of near-constant disruptive events. In the last year, in addition to the strain caused by the pandemic, the industry also experienced hurricanes, wildfires, social unrest and labor issues. All these factors are impediments to predictable supply chain operations.
These varied impacts are also global impacts. Ironically, this is a function of how successful modern supply chain systems have gotten in the years leading up to the current crisis. The advent of a vast, globally interconnected supply chain ecosystem has been the key to efficiency and value in modern times. But, now that interconnected nature is the key to paralysis in pandemic times.
Uneven and unpredictable impacts
The current landscape has put many companies on their heels trying to shuffle supply chain processes to stay agile as demand for goods grows daily as the holiday approaches.
The enormity of the challenge depends on several factors, including the nature of a company's products; where and how the components and raw materials of those products are sourced and the extent to which those provisioning models intersect with some of the most challenging supply chain hurdles. These hurdles include rising commodities prices, glacial lead times, gaps in transportation and critical shortages of key materials like semiconductors.
Smaller businesses that rely on overseas sourcing will be particularly hard hit. And, any product that has semiconductor chips – from cars, to smartphones, to laptops, gaming consoles, toys and more – will potentially be delayed since many of those chips are manufactured in China and elsewhere overseas. Other problem areas include books, footwear, apparel and holiday decorations, something already seen with the shortage of Halloween costumes and decorations this year.
In addition, the ongoing surge in the COVID-19 Delta variant has put social distancing measures back in place. Not only does this slow down shipping and warehousing processes, but it also does so in unpredictable regional shifts – as occupancy limits scale up and down, county by county, to match the latest changes in COVID-19 cases and the restrictions that accompany them.
Planning for resiliency
While it's impossible to completely avoid these pressures, it is possible to cope with them in proactive ways that can mitigate their impacts on delivery and the customer experience. Some workarounds are already being enacted to minimize the impact of these factors on the holiday season. For example, some larger companies are starting to sell their logistics and delivery services to other companies, which will particularly benefit small businesses that tend to sell American-made goods.
Other bright spots include major companies that have manufactured products long in advance and have already reserved cargo space to ship items to the United States in time to meet holiday season demand. And, many businesses of all sizes are increasingly able to leverage integration technology to improve their ability to quickly pivot how they're approaching supply chain issues to remove some of the volatility.
Modern integration technology platforms help provide visibility and control across the entire supply chain ecosystem to make data-driven, real-time decisions around everything from inventory status, manufacturing disruptions and supply shortages to logistics, transportation, delivery schedules, pricing changes and more. This can enable a business to remain agile in avoiding bottlenecks.
For instance, you may have the choice of two manufacturers -- one in Mexico and one in China that sells at a lower cost but who can't deliver in time for the holidays because of seaport disruptions. In this scenario, integration technology can help swiftly adjust on the back end to send trucks to the supplier in Mexico, rather than waiting for months while the products are delayed in a Chinese (or U.S.) seaport.
There's still time before the holidays
These are just some of the considerations as organizations step up to the task of meeting holiday demand in the face of enduring supply chain disruptions. Fortunately, a growing number of companies are finding success in digital strategies and assets designed to solve these disruptions with enhanced visibility, control, and ultimately, resiliency.