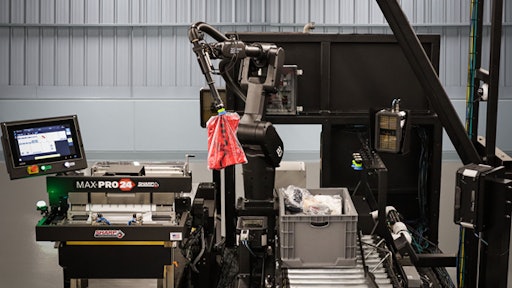 Berkshire Grey
Berkshire Grey, Inc. introduced its new Robotic Pick and Pack with Identification (BG RPPi) system, which now includes advanced auto-identification and item manipulation technology for touchless e-commerce autobagging.
"Berkshire Grey's Robotic Pick and Pack with Identification (BG RPPi) system for autobagging is the newest addition to our innovative portfolio of eCommerce solutions," says Kishore Boyalakuntla, VP of product at Berkshire Grey. "This system helps retailers increase their fulfillment throughput capacity while using sustainable autobagging approaches. With BG RPPi for e-commerce autobagging, we can now help retailers enable a touchless pick-to-ship fulfillment operation that is fully autonomous, thereby reducing labor dependency and increasing overall productivity."
From GlobeNewswire:
This system combines automated picking with intelligent placement for packing e-commerce items directly into autobagging equipment, thereby increasing throughput capacity without adding additional labor.
This system identifies individual order items in real time using advanced auto-identification and item-specific robotic manipulation technology.
BG RPPi for eCommerce Autobagging increases capacity without adding labor; makes 24x7 autonomous operations possible; better leverages sustainable packaging solutions and handles three times the number of SKUs compared to other robotic solutions.