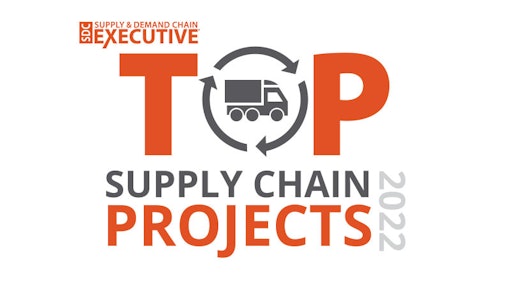 Nominations are open for Supply & Demand Chain Executive's 2022 Top Supply Chain Projects award, which spotlights successful and innovative transformation projects that deliver bottom-line value to enterprises across a range of supply chain functions.
The past 18 months have been a tumultuous time for U.S. supply chains. From product shortages and driver shortages to increased security measures, enhanced technologies and a new way of doing business and delivering product, the supply chain continues to face disruption after disruption, bottleneck after bottleneck.
But, the core reason today's supply chains haven't completely fallen apart is because solutions providers have been working diligently to partner with customers and clients to streamline processes, implement emerging technology and deliver results that don't just improve bottom lines, but also the environment.
For many of the collaborations, it's about achieving full visibility, complete forecasting, end-to-end leverage and the ultimate in sustainability.
It's time to recognize these projects. So, get those submissions in now!
Deadline for submissions is Sunday, April 10, 2022 at 11:30 p.m. CST.
ALL NOMINATIONS must be submitted electronically. CLICK HERE to access the nomination form.
CLICK HERE to view the criteria of this award.
And, CLICK HERE to preview the questionnaire.
For questions, please contact associate editor Hannah Gooch at hgooch@acbusinessmedia.com or editor-in-chief Marina Mayer at mmayer@acbusinessmedia.com.
Check out previous winners here, including video interviews and more!