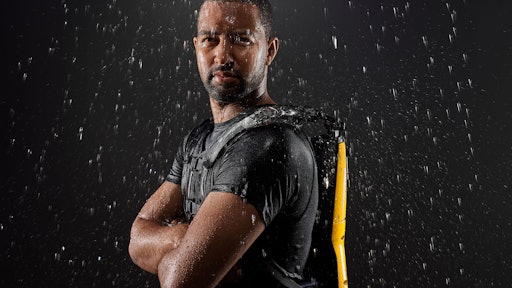 German Bionic
German Bionic debuted Cray X, an artificial intelligence (AI)-powered exoskeleton, complete with active walking assistance, IP54 waterproofing and a 40V battery.
"AI is the basis for the ongoing development of exoskeleton technology and the future of human augmentation," says Norma Steller, head of IoT at German Bionic. "The German Bionic cloud-based platform for exoskeletons is unique in the industry, providing us with the data necessary to advance machine learning, cultivate AI applications and continue driving our R&D efforts to new levels. With the fifth generation Cray X, we have taken further significant steps in this direction."
From PR Newswire:
The fifth-generation Cray X is said to be the first exoskeleton of its kind to support two regions of the body. It works by gently pushing the legs forward when loads need to be moved from A to B. It thereby helps reduce premature exhaustion and preserve the energy levels of workers conducting tasks involving both lifting and walking.

The Cray X is equipped to handle extremely wet and dusty working environments with ease.

The integrated AI-based early warning system for ergonomics alerts against signs of poor posture and incorrect lifting practices.

BICS provides global IoT connectivity

and asset management for the Cray X exoskeleton.
"The fifth-generation Cray X underscores our technology leadership in the massively growing international exoskeleton market," says Armin Schmidt, CEO of German Bionic. "The innovations we are announcing today pave the way for more people and businesses throughout the world to benefit across a wider range of use cases and industries."