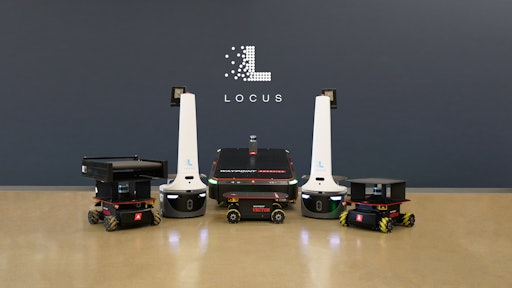 Locus Robotics
Locus Robotics acquired Waypoint Robotics, broadening the Locus product line of automated mobile robotic (AMR) solutions that address use cases from e-commerce, case-picking and pallet-picking to scenarios requiring larger, heavier payloads and fulfillment modalities.
"Locus is the proven leader in the development of highly productive and innovative AMR technology that efficiently solves our customers' needs for total warehouse optimization," says Rick Faulk, CEO of Locus Robotics. "As order fulfillment and labor shortages continue to grow around the world, the acquisition of Waypoint Robotics will accelerate our ability to meet these global needs in just months rather than years, helping us drive the digital transformation of the warehouse."
"Waypoint shares Locus's commitment to technology excellence in pursuit of customer success," says Jason Walker, CEO of Waypoint Robotics. "We're excited to contribute to the expansion of the Locus product family in order to deliver a broader range of solutions, as well as access to new market segments."
From PR Newswire:
Waypoint's Vector and MAV3K are industrial-strength, flexible mobile robot platforms that feature omnidirectional mobility and can be fitted with a wide variety of modules and attachments.
Companies in this article