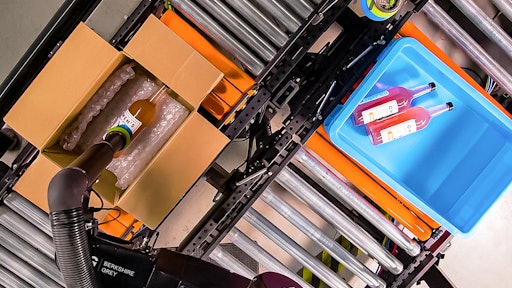 Berkshire Gray
Berkshire Grey brings its recently tested robotic pick and pack (RPP) solution to a global scale for e-commerce fulfillment after it saw numerous success in consumer deployments. The solution is said to drive efficiency in fulfillment centers through the direct pick and pack of online consumer orders right from the inventory tote to customer packages. A zero-pressure placement feature means the robotics systems will not drop or over cram items, including delicate items. It also includes advanced machine vision and real-time planning algorithms to manipulate individual items for on-the-fly placement with a tight, safe fit within each shipping box.
Per Globenewswire:
Berkshire Grey's

RPP system was designed and built to optimize SKU processing, improve picking and packing efficiency, and speed operational throughput. It autonomously picks and packs consumer orders while ensuring items remain in pristine condition — satisfying customers, minimizing returns and reducing damage costs.
Autonomous dense packing, which leaves less air in each box and reduces the packing materials needed, thereby lowering both the shipping costs and environmental impact of e-commerce orders.