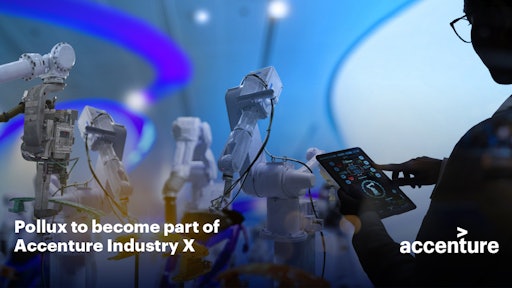 Accenture
Accenture announced plans to acquire Pollux, further expanding its capabilities in consumer goods, pharmaceutical and automotive industries.
The transaction includes operations in Brazil, Ecuador, Mexico, Canada, and the United States, and Pollux's 290 employees will join Accenture's Industry X group.
"Automation and human + machine collaboration are digitally transforming manufacturing and supply chain operations to be more flexible, resilient, sustainable and safe and to better meet ever-changing customer demands. Tangibly seeing these benefits in practice requires a true integration of information technology and operations technology, which is what Pollux will allow us to offer our manufacturing clients," says Nigel Stacey, global lead for Accenture Industry X.
From Accenture:
This acquisition will

strengthen

Accenture's

digital manufacturing, operations and supply chain capabilities.

Pollux designs, engineers and deploys fully functional assembly lines that include robots and other hardware, plus the software that controls them.

Pollux also offers visual analytics inspection solutions, autonomous mobile robots and robots-as-a-service for shopfloors and warehouses.