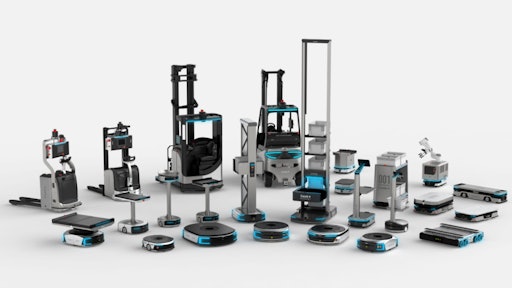 Geek+
Geek+ joined forces with Boreal Technologies SA to help early adopters realize a successful transition toward intelligent logistics and manufacturing and advanced automation, digitalization and optimization of supply chain operations across South America. This partnership is aimed to accelerate Industry 4.0 in South America, improving efficiency and building supply chain resiliency.
"We are excited to partner with Boreal Technologies and leverage their expertise and wide customer base to advance our regional expansion in South America," says Randy Randolph, senior sales manager of Geek+ US. "Last year, we saw the successful implementation of our robotics-driven goods-to-person solution in Walmart Chile's warehouse to help them manage the growth in e-commerce. In turn, we look forward to continuing to support retailers, 3PLs and manufacturers across the continent with tailored robotics solutions that can help them gain short and long-term competitiveness."
From PR Newswire
Geek

+ connects networks of AI-driven mobile robots managed by an intelligent robot management system to customers' warehouse management systems to optimize the process for finding, sorting or moving ordered goods.
Letting mobile robots organize inventory according to real-time demand improves the ability to adapt.
Automatic self-charging enables 24/7 automated operations.