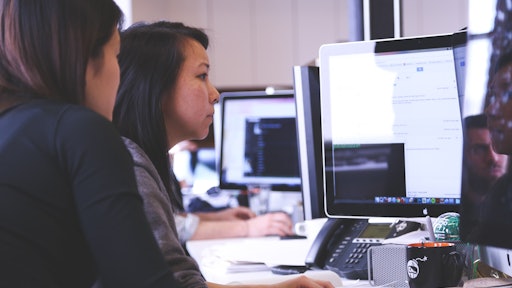 Photo by Startup Stock Photos from Pexels
Softeq looks for global growth in sales
Software developer Softeq Development Corporation is targeting a global audience as it has created a new position devoted to sales worldwide.
Jeremy McKeon, who comes from various leadership roles in sales, steps into the new role where he is responsible for account management, business development and customer engagement. Most recently, he was the vice president of worldwide sales and alliances at Maana. His past jobs span industry sectors such as technology, oil, medical, data security and others.
Mission to Modernize US Ballistic Missiles Gains High-Tech Security
Defense technology creator Northrop Grumman Corporation is getting a leg up in security by partnering with Bechtel and Kratos Defense and Security Solutions.
The partnership adds the two into Northrop's Ground Based Strategic Deterrent (GBSD), a United States Air Force program aimed at modernizing inter-continental ballistic missiles.
Bechtel's responsibility is to handle system design, construction and integration, while Kratos will provide vehicle transporters such as missile transporters and payload transporters. The addition of the two groups helps support Northrop's GBSD deadline of 2029.
Both Bechtel and Kratos use technology for better security. Bechtel focuses on infrastructure while Kratos focuses on tech systems.
The mission to protect these technologies is exceptionally important, as they are serious safety concerns. Last April, the U.S. Navy admitted that systems it relies on to mobilize, deploy and sustain forces have been targeted by cyber criminals.
Elemica Drives Growth with New Management
Coming from Grant Thornton as managing director of business transformation, Steve Lyman is stepping into the role of senior vice president of professional services at Elemica to grow its clientele.
The digital supply network has also appointed Cindi Han to vice president of logistics and general manager of transportation management system Eyefreight, after its recent acquisition into Elemica. While leading Eyefreight's day-to-day operations, she will maintain her role as vice president of logistics product management at Elemica.
With these new appointments, Elemica is hoping to drive forward a digital transformation, such as its recent blockchain pilot for chemical manufacturers.
Previously, Lyman was responsible for delivering successful client relationships along with business transformation programs.
Kinetica Aims for Seasoned Execs to Scale Platform
Dean Neese is taking over as chief financial officer of analytics platform Kinetica, where he will manage financial operations and drive growth.
Kientica is aiming to support its relationships within the G2000, and says its new hire reflects a company-wide strategy that targets seasoned executives to accomplish missions like this.
Neese now reports to CEO Paul Appleby. He is accredited with executing more than 30 acquisitions, joint ventures, divestitures and initial public offerings. He has also served as chief financial officer of Qubole.
eWorkplace Follows SAP-Partnership Extension with New Sales Appointments
Software developer eWorkplace Manufacturing Inc. is hoping to grow its Enterprise Resource Planning (ERP) platforms by bringing on new sales talent.
Chief of sales for BatchMaster, Tim Shorter, steps into the platform after 20 years of various senior roles in sales at other software development companies. Similarly, Mike Davies takes the director of sales position for eWorkplace's OptiProERP after working with competitor SYSPRO in sales.
eWorkplace recently announced that it was extending its long-term partnership with SAP Business One to deepen innovation.
SYSPRO

Taps General Manager to Strengthen Canada Market Share

While eWorkplace gains a previous SYSPRO employee, SYSPRO is welcoming a new general manager of Canada, with plans to gain a better foothold for its Channel in North America.

Brian Rainboth has more than 22 years of experience in technology with various team leading roles at SAP and SAGE in roles including international sales, channel sales, director sales and SaaS.