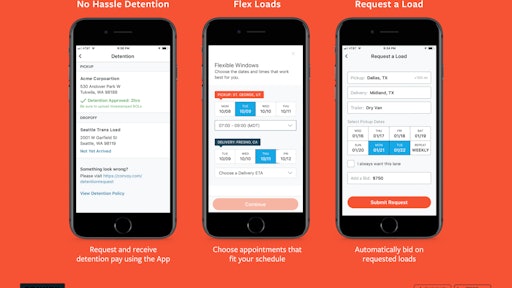 Convoy
Convoy's freight marketplace has automatically matched 100 percent of loads to trucks in top markets, without any human intervention. These include routes from major West coast markets, Midwest routes, routes from Texas markets, Northeast routes and Southeast routes as well.
Nationwide, Convoy is automatically matching 95 percent of loads to trucks, according to a blog post from the company. The number continues to grow as new markets adopt the company's technology. Convoy reportedly reached its high numbers by empowering carriers to find and book their desired loads with the tap of a finger.
To measure the booking load with carriers, Convoy uses two steps: finding a truck that is available and can arrive on time (matching) and agreeing on the rate at which that work will happen (pricing).
By achieving this milestone, Convoy has increased app use and has better data on driver preference and behavior. As the company continuously invests in improving its core relevance models, it has also made it easier for drivers to find jobs that best fit their needs.