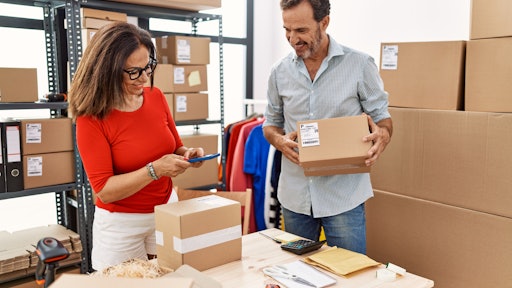 krakenimages/adobe.stock.com
Scandit introduced SparkScan, is a pre-built smartphone scanning interface designed for high performance barcode scanning. SparkScan is a part of the Scandit Smart Data Capture platform and fits on top of any smartphone application. This provides an intuitive user interface for simple, fast and ergonomic scanning in scan intensive workflows such as inventory management in retail or goods receiving in logistics.
"In real-life workflows where hundreds or thousands of scans are done per day, the scanning experience must be via a comfortable, user-friendly interface," said Christian Floerkemeier, CTO and co-founder of Scandit. "Our engineers have carefully optimized SparkScan, based on our experience in supporting thousands of customers, so that those deploying data capture tools to their frontline workforce can be assured of easy access to a versatile, high-performance software solution for rapid, repetitive scanning."
From Scandit:
On a global scale enterprises are seeking the multiple benefits of switching from legacy dedicated scanners to smartphones. SparkScan eases this transition by removing technical barriers because of its pre-built interface.
The benefits are lower total cost of ownership, multi-functional capabilities, and offering company owned personally enabled (COPE) devices which are critical when attracting and retaining a workforce for important frontline roles.
This can be done with any smart phone device.

Users can activate the built-in scanning modes with a simple swipe and can quickly switch between two different modes.

Target mode

: a scanning mode that is useful for scanning barcodes at longer distances without having to bend down low or reach up high.

Continuous mode: a scanning mode that enables users to scan non-stop without having to trigger scanning before every single scan. This makes repetitive, high-volume single scanning even faster.
It is fully customizable and offers users audio or haptic feedback, including the choice to use the physical button on the side of a phone as a trigger or to scan in left-handed mode if a person is left-handed. A person can also scan in low light, at a distance, at multiple angles and are even able to capture damaged barcodes.