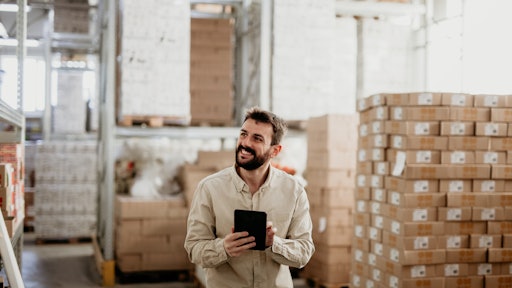 *This content is sponsored by SAP*
Part of what made Magic Johnson the basketball legend he is today was his "court vision." He could see a play unfolding, anticipate where his teammates would be, and deliver the ball to the exact right place at the exact right time to put points on the board.
The most successful supply chain operators in the world possess a similar type of magic. They can see where potential disruptions are erupting across their network, analyze a host of hypothetical workarounds, and initiate the appropriate response to avoid any delay, without their customers ever knowing that a problem was even in play.
The Technology You Need Is Already in Place
It's called supply chain resiliency by way of real-time visibility. It's enabled through state-of-the-art technology, configured to draw real-time data from the field and feed it back into an ERP system, where it can be processed and presented to decision-makers who then make the right call at the right time to avoid disruption and create value.
To be sure, this goes well beyond just knowing where your shipment is. It includes knowing what purchase order, sales order, or stock transfer order is related to your shipment, so that if the shipment does run late, you have all the data you need to nimbly mitigate the impact on your business, customer, or production run. Indeed, you gain the agility, through visibility, to remain resilient.
Prior to COVID, not a lot of logistics companies had the technology in place to perform this type of magic. They had pieces of it, but not always connected. And not always enjoining the right players up and down the supply chain, from customers and carriers, to suppliers, finance organizations, 3PLs, and others, to get the job done.
However, with technology as mature as it is today, and the lessons of COVID still fresh in the rear view mirror, many firms are now seeing that the abundance of data and computing power currently available via the cloud can swiftly turn problems into opportunities. Minor disturbances can be overcome before they spread into full blown disruptions, while the customer remains none-the-wiser of situational dynamics. Proactive supply chain management is at last within reach.
The Benefits of Becoming Proactive
Companies that embark on a supply chain digitization journey with the right technology providers can transform their networks to embrace the magic, including:
Increased situational awareness, connecting physical flow with related information.
Improved responsiveness focused on mitigating exceptions.
Increased customer service levels through proactive change notifications, fewer expedite charges, etc.
Accurate carrier assessments and bottleneck detection.
Mitigated risk across modes and geographies.
Early detection of potential operational and order fulfillment disruptions.
Improved efficiency through predictive shipping management.
Improved on-time, in-full.
Decreased detention and demurrage.
Increased market share.
The fact is disruptions typically happen when you get blindsided. Avoid the blind spots and enhance your supply chain vision by harnessing logistics visibility to drive growth and customer satisfaction.
This Webinar Explains It All
Plan now to attend Supply & Demand Chain Executive's exclusive webinar event, "Enhance Your Resilience: Unveiling the Secrets of Logistics Visibility," presented by Fabrizio Brasca, Chief Strategy Officer, FourKites, and Nicole Fox, Intelligent Spend and Business Network Executive, SAP, on September 5, 2023. You'll quickly learn, the magic you need is already in reach.