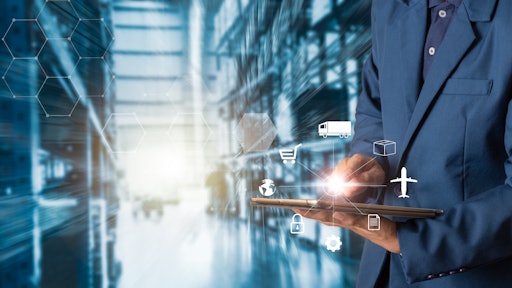 The future of work is increasingly digital, and nowhere is that more evident than in manufacturing. APQC has gathered and analyzed information from 626 global organizations about their manufacturing practices, focusing on digitalization and the adoption of emerging technologies. One key area of investigation is the use of the Internet of Things (IoT) in manufacturing.
One caveat is that IoT systems don't work unless there is a data management and analysis strategy to do something with the vast amounts of data collected by the sensors.
IoT for predictive asset maintenance and condition monitoring
Using IoT enables organizations to fully apply insights to optimize preventative maintenance practices. For organizations with multi-million-dollar maintenance budgets, the potential return on investment from the optimization of preventive maintenance can be significant.
In APQC's research, using IoT for predictive asset maintenance and condition monitoring is fully implemented in only 15 percent of organizations. A slightly larger group (19 percent) is currently rolling it out, and 27 percent is in pilot mode. See Figure 1.
Key Term: Internet of Things (IoT)

For purposes of this research, the Internet of Things (IoT) refers to physical objects (often production machinery) that have chips, sensors, and actuators embedded in them that allow the sensing, capturing, and communication of all types of data.

IoT sensors and infrastructure allow this data to be captured and used for multiple purposes.
IoT for detecting and managing unplanned production issues
Prior to IoT when machines stopped working, the production line was halted so technicians could make repairs, often disrupting workflow. And if the needed replacement parts were out of stock, this production issue could also cause additional costs, delayed schedules, and missed deadlines.
Now the use of IoT-enabled solutions allows factories to embrace a predictive maintenance model that allows them to anticipate and resolve potential equipment issues before they impact production.
When it comes to using IoT to detect and manage unplanned production issues, APQC has found that only about 14 percent of organizations have fully implemented it, and another 20 percent are rolling it out (Figure 2).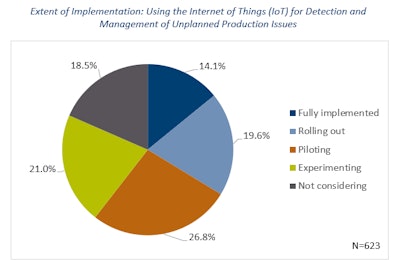 When it comes to implementing and rolling out IoT, APQC found that organizations are further along in their journey in logistics, with 23 percent fully implemented and 27 percent rolling it out, compared to inventory management (20 percent implemented) or facility and energy management (18 percent implemented) as shown in Figure 3.
As production processes becoming increasingly digital, implementing IoT devices will become more common. In this research, APQC found that four out of five organizations have either implemented IoT or are in the process of rolling it out, piloting it, or simply experimenting with it. That number will undoubtedly increase moving forward.
APQC helps organizations work smarter, faster, and with greater confidence. It is the world's foremost authority in benchmarking, best practices, process and performance improvement, and knowledge management. APQC's unique structure as a member-based nonprofit makes it a differentiator in the marketplace. APQC partners with more than 500 member organizations worldwide in all industries. With more than 40 years of experience, APQC remains the world's leader in transforming organizations.