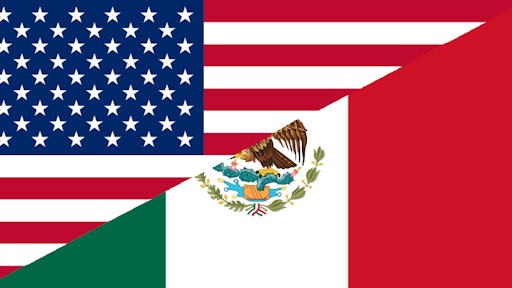 Wikipedia
Tariffs on all Mexican goods will only hurt U.S. businesses, NPR reports.
Less than a week after the Trump administration announced it will raise tariffs on all Mexican products - starting at 5 percent June 10 and rising to 25 percent by October - unless the country addresses undocumented migrants crossing the border, companies have come out saying that the decision will only negatively effect business.
"We just did not see this coming," Ann Wilson, senior vice president of government affairs for the Motor & Equipment Manufacturers Association, tells NPR. "Manufacturers flourish in this country when they have certainty. Now we have a real question about whether that certainty even exists."
Companies were temporarily relieved when the administration lifted tariffs on steel and aluminum from Mexico and Canada. The move was supposed to boost Congress approval in hopes of the USMCA deal being passed. Now, worries are back as Mexico has said it will retaliate against the tariffs.
Auto-parts makers, in particular, will be hurt by the tariffs as many companies are closely intertwined with Mexico, NPR reports. Clothing prices have already been hiked after the administration raised tariffs on imports from China. The auto industry is only bracing for what will happen if the Mexican tariffs reach 25 percent. Normally, businesses have several months to adapt to tariffs so they can optimize their supply chains, but now it is becoming too unpredictable.