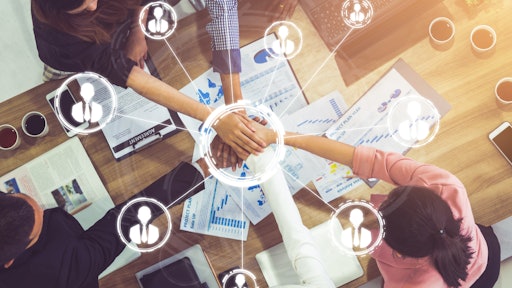 BluePlanetStudio/stock.adobe.com
Developing a strong workforce depends on a number of factors, from establishing mutual respect and creating opportunities for communication and engagement, to providing meaningful training and advancement opportunities using the industry's latest technology. The impact technology has had on the supply chain and warehousing industries goes without saying. Processes are more efficient and trackable than ever before, and utilizing newly available software puts industry leaders at the forefront of innovation and productivity.
When it comes to technology and the employee, do we really need to separate the two? Together, the duo can create a stronger workforce by combining the tech magic of artificial intelligence and the strength of human manpower. Hard workers, top-tier technology and company efficiency are a trifecta that will help your business grow in both company morale and profitability.
Finding the right technology and training your workforce
As the world becomes more connected and demand for goods continues to grow, it is essential for logistics providers to be on top of technological advancements within their industry to gain a competitive advantage. Whether it's attending national and international tradeshows, or staying up to date via newsletters and magazines, being in the know is a must. Providers first need to determine the software that works best for their services, clients and workforce.
Once the software is chosen, employers must internally communicate changes to their workforce, from warehouse staff to executives, to ensure everyone is aware of any new processes. Following the introduction of new technology, meaningful training for warehouse staff is essential to keep workflow in place and reduce hiccups in your everyday operations. New technology can be confusing and, sometimes, intimidating. Instead of causing anxiety, empower employees to become knowledgeable of new software, methods and opportunities to create more efficient processes through newly integrated technology. With proper training in place, technology becomes approachable for all employees and services become more streamlined.
An added bonus in today's world of connected technology is the ability to remotely support your staff. If your company is dispersed throughout the U.S., virtual logins can help your lead trainer be accessible regardless of their location, in addition to reducing overhead costs by minimizing travel expenses or hiring two internal positions on both coasts.
Technology's impact on accountability
If employees feel overwhelmed with tasks and are unable to complete all projects, technology can be utilized to evaluate productivity and workload. The latest warehouse management systems can help oversee warehouse employees, increase efficiency and foster accountability among your workforces.
Warehouse management software helps keep warehouse staff accountable and maintain a certain standard of service that is visible to management. These types of programs allow supervisors to pinpoint employees who are underperforming, as well as identify issues that may be hampering their productivity. Solutions such as providing them with additional training or shadowing can become clear and discussed during 30-, 60- and 90-day employee check-ins. In addition, these technologies can also help identify top performers for recognition or promotion.
Rather than assessing performance at the team-level, these programs allow companies to assess capabilities at the individual level. Those individuals are just as important as the hand-held device in their hand. With this approach, you're not pitting your workers against technology, but rather creating an environment where they are cohesively working together to create a stronger, quicker and streamlined workforce.
Investing in this type of employee relations can be a missed mark in the logistics industry. Making the shift to an employee-focused company by utilizing technology can help attract new hires, retain current staff and empower team members to produce at their highest level.
Technology, KPIs and Efficiency
Demonstrating a return on investment through technology utilization to empower employees can also be done through artificial intelligence and technology utilization.
In researching the best software for your company, ensure that you select one with a reporting capability that demonstrates your company's monthly KPIs. Whether it is order accuracy, pick and pack cycle time, number of shipments or inventory accuracy, determine which metrics are most important. Be sure to establish an open line of communication with your software representative from the start to discuss your company's needs and wants. Will your KPIs be an additional fee to ensure reporting is accurate? Will the software pull all of the data or will someone on your team manually be creating spreadsheets? Ensure that all data needed for reporting meetings and quarterly check-ins are hitting the mark from your initial day of investment.
An investment in logistics technology is a significant one, so ensure that it's fast, accurate and reliable. If not, we all know how difficult, and expensive, breaking a contract can be.
Time to start bridging the gap between technology and your employees
Establish an environment where your employees feel empowered to learn about and utilize the latest technologies available to them. Take time to train employees on all new platforms and give them an opportunity to learn and grow among colleagues with the resources you provide. In doing so, you refrain from creating a divide between technology and employee, and instead establish a workforce that actively engages with new capabilities, finds new ways to team-build and increases company efficiency and profitability.