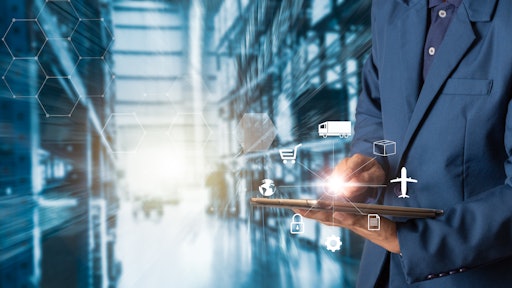 Getty Images
At a time of unprecedented challenges for global businesses and rising customer demand for detailed product information, Avery Dennison launches a new initiative to bring together technology and business leaders to establish transparency within the supply chain. The film "A Portrait of a Supply Chain" highlights the importance of creating digital supply chains, enabling greater transparency for raw materials, products and the people along the journey.
The film features a series of interviews with pioneers in the space and confirms findings of Avery Dennison's recent market reports, analysing key sectors including apparel, food, beauty, and logistics that are establishing best practice in transparency. Key findings include the fact that 83% of business leaders believe that supply chains and associated technologies can support sustainability objectives, with 65% identifying sustainability as an even greater priority after COVID-19, whereas 70% of consumers feel trust in a brand is more important than in the past.
The film emphasizes what transparency means to the people working at the heart of supply chains. From deep connections to the land, to safer and more sustainable practices - the viewers get an insight into their work and commitment to the community and the environment. One of the organizations featured in the film is Camaste, a Mexican cocoa butter producer that has developed a very close working relationship with a network of growers in Tabasco enabling trust and traceability in their supply chain. Connecting raw materials at source with a unique digital identity is key, as this fast-growing business supplies cocoa to beauty companies from the United States to New Zealand.
Greenfish is a seafood business in South Africa which has made a commitment to ensuring that all their seafood is sourced from legal fishing operations and is traceable back to its point of origin. Every single package includes information about the species, origin, and production method.
In the UK, Emma Bonar has established 69b Boutique, the 'first store dedicated to a better fashion industry' with a vision to bring together designers who are socially and environmentally responsible. Brands it works with must adhere to a strict policy on transparency and accountability with a commitment to sustainable fashion. In her words: "our customers rely on us to know where the products that they're buying are coming from."
Tyler Chaffo, Manager Global Sustainability, Avery Dennison Intelligent Labels explains "There is a critical need from Governments, NGOs and consumers for more transparency throughout the global supply chain. This means moving beyond just tier one suppliers but throughout the chain to empower people as well as products and build a more sustainable planet. Many organizations are using the current crisis to rethink and transform their global supply chain model. "A Portrait of a Supply Chain" is our initiative to 'hero' some of the individuals and companies that are committed to making this happen."
Chaffo continues: "Organizations actually have a vested interest in delivering supply chain transparency. As well as the reputational cost of failing to meet these demands, researchers at the MIT Sloan School of Management found that consumers may be willing to pay up to 10% more for products from companies that provide greater supply chain transparency. Over the coming months we look forward to developing these themes further and encouraging an industry-wide debate as to what needs to happen within a sustainable supply chain to deliver the planet, we all want."
With the introduction of digital identity technologies, it becomes possible to provide unique traceable identities for every product, enabling transparency from raw materials to end product and beyond. In doing so this offers consumers the highest standards of visibility, safety, education and authenticity possible, while giving businesses complete control over their supply chains.
The documentary-style film was shot on location in Mexico, South Africa and London. The three contributors discuss the importance of traceability in their respective industries and best practice. Each are owners of their business and outline how long they have been working in the industry they work in, how they came to do it, and why as the camera follows them during their day at work.
The content was shot with local film crews and produced via The Smalls, a video creation platform, connecting a community of over 18,000+ independent filmmakers. Dan Northover, CEO said: "Our intention with the shoot was to illustrate how to make supply chains personal, real and relatable. This is why we have worked with Avery Dennison to champion the diverse people in supply chains across apparel, food, beauty and logistics to show why technology matters and how ultimately it plays a pivotal role within business, society and our planet."