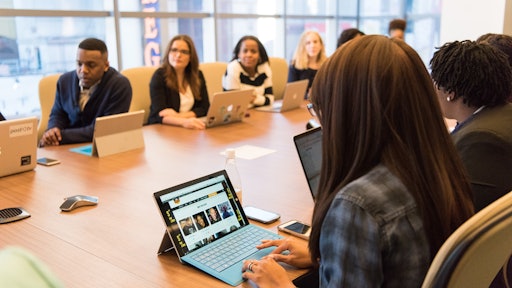 Pexels
Maureen Barsema, industry principle for Enable and one of Supply & Demand Chain Executive's Women in Supply Chain award winners, explains how the industry started with males and will continue to be male-dominated if females don't get involved.
CLICK HERE to view the full list of 2022 Women in Supply Chain winners.
Supply & Demand Chain Executive: Tell me a little bit about yourself and your company.
Maureen Barsema: My name is Maureen Barsema. I graduated college magnum cum laude with a degree in finance and marketing while working full time and raising my daughter with my husband. I am former co-owner and CFO of a wholesale electrical distributor, former chair of the National Association of Electrical Distributors giving my time to the electrical industry on a national level, a long-time investor in constant learning, a business/financial consultant with a special focus on rebate management and their financial impact on profitability, all adding up to over 40 years of dedication. I still desire to continue my journey. I joined Enable, a rebate management software solution company, in January 2022 as Enable's industry principle. Rebates play an integral role in any company's overall profitability. It is my desire to keep the rebate management topic alive, to assist in bringing profit dollars, data and process harmony to the rebate ecosystem and that includes everyone who participates in the supply chain.
Supply & Demand Chain Executive: What attributes do you think a successful supply chain leader has?
Barsema: A successful supply chain leader is one that has lived the supply chain, dealt with its pain and attempts to breathe new life into its soul. Kinds of deep, I know. However, a good leader is one that can propel with others, who understands the mission from every perspective, who asks lots of questions in the areas of unfamiliarity and who listens to the desire to become something better collaboratively.
Supply & Demand Chain Executive: Are there any challenges that you have faced in the industry? How did you overcome them?
Barsema: A couple stories from a distributor of electrical products: A bill of material that used to cost $7,000 now costs $68,000 with a wait time that went from 6-8 weeks to 48-52 weeks. A job requiring 30-meter stacks could only be served with two, having the contractor wait up to one year for the other 28.
We are certainly uncomfortable during these challenging times. We used to pride ourselves on guaranteeing the five-star level of service: "what you want, where you want it, when you want it, at the right price with no surprises." That has certainly been thrown out the window. The only thing we can mostly guarantee is one of the stars, "where you want it." Every company has had to get creative on product availability and get comfortable around product substitutions, dealing with delays, price increases and lots of surprises while remaining profitable. How does one overcome all of this? Using new business strategies by building relationships, reaching out for help to those you normally wouldn't, digging deeper to find solutions, broadening the reach within the supply chain, negotiate price and build loyalty programs, all to serve the customer in a less than satisfactory way, but served nonetheless. One overcomes these challenges by building a spirit of hard work, problem solving, patience, hope, accepting a slower way of life and coming together in ways you never thought possible.
Supply & Demand Chain Executive: What is it like being a woman in a traditionally male-dominated industry?
Barsema: One could say it's lonely being a woman in a male-dominated industry, but it's only as lonely as you make it. It takes confidence, involvement, will and determination to show you are a contributor with spirit of a collaborative game-changer, who believes that gender doesn't have to make a difference. Those that persevere will win.
Supply & Demand Chain Executive: Why do you think more women should be involved in the industry? How can we recruit and retain more talented women?
Barsema: More women need to get involved in the industry because there is a grand opportunity to do so. However, positions being filled by women are those jobs that are generally back-end positions, and unfortunately do not get recognized, but there are a lot of women involved. I heard that for every successful businessman, there has been a woman who made that person successful. So, not always true, but women are caretakers by nature. I was fortunate enough to have a male mentor who did not see gender as an adherence to the company's success. It's a fact. The industry started with males and will continue to be male-dominated if females don't get involved. Many males have recognized women in the workplace. Seek those mentors and companies whose culture supports the industry wearing gender blinders.
On another note, the supply chain industry is quite taken for granted. We need to educate industry business acumen in high school, build education, training and mentor programs that will guide the younger generation into the supply chain industry, seeking certified course loads that prepares them for real industry life.
Supply & Demand Chain Executive: What advice do you have for those first starting out in the industry?
Barsema: Get involved, stay involved. Do it now. Keep it moving. See it through.
Supply & Demand Chain Executive: How does it feel to be named as one of Supply & Demand Chain Executive's Top Women in Supply Chain?
Barsema: I am truly honored to be named as one of Supply & Demand Chain Executive's Top Women in Supply Chain. I didn't win this on my own and accept this recognition to all those who have contributed to my success, who remain forever woven in my cloth and who I will carry forward.