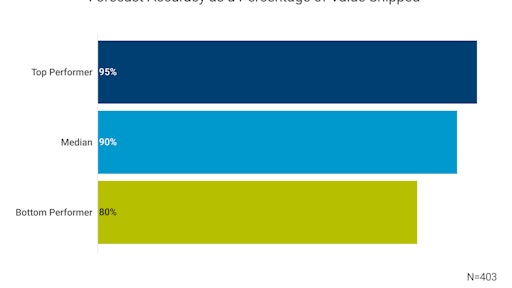 APQC
The benefits of improved forecast accuracy in supply chain are numerous and often-documented, including better results on customer service key performance indicators (KPIs) like faster cycle time, operational KPIs such as fewer expedited orders, and business KPIs such as improved inventory management.
If forecast accuracy can improve these results, the question then becomes, "How?" Or better yet, what do top performing organizations do differently from others? This article draws on APQC's Open Standards Benchmarking® data in Supply Chain Planning to examine what forecast accuracy looks like for top performers and then showcases the practices that those top performers have adopted to achieve that level of performance.
Figure 1 shows the forecast accuracy for top performers is 95 percent (i.e., those organizations in the top quartile of performance), the median is 90 percent (i.e., the midpoint of the responses for the 400+ organizations in the research), and bottom performance is 80 percent (i.e., the bottom quartile). Top performers have 15 percent greater accuracy than bottom performers. Recognizing that even small improvements in accuracy can make big differences in organizational performance, let's examine what the top performing organizations are doing. It's important to go beyond looking at the size of the gap to looking at practical information on how to close the gap. Learning from others can save your organization time and effort and provide a jump start on plans for how to improve this key performance indicator.
One obvious element that helps improve forecast accuracy is technology and process automation capabilities. Recognizing that many organizations are already investing in digital transformations in their supply chain, let's not focus on automation for the sake of automation. Instead, let's look at key practices that can help.
How do top performers achieve their higher levels of forecasting accuracy?
Leveraging its research data, APQC examined the forecast accuracy of organizations based on their level of adoption of key supply chain planning practices. Some clear winning practices emerged. Organizations that have adopted these practices to a greater extent see a five percent improvement on their forecast accuracy in terms of value shipped (at the median level).
Practices Contributing to Better Forecast Accuracy
Make key information such as actual supply and demand data visible in real time
Use Sales and Operations Planning (S&OP) processes to reach a consensus forecast with input from marketing, sales, operations, and finance
Collaboratively plan and forecast with key customers
Base supply chain segmentation on factors such as customers, products, channels
Express forecasts as a governed range rather than actual numbers
Shape customer demand and align it to supply capabilities (demand shaping)
Analyze external structured and unstructured data to predict demand
Use Collaborative Planning, Forecasting, and Replenishment (CPFR) or continuous replenishment with customers
Use predictive analytics to improve customer forecast accuracy
The one constant organizations can depend on is change, so embracing practices that help your organization flex and adapt to those changes is key. Improving your organization's ability to better predict the demand that is on the horizon can equip your supply chain to improve its response to it.