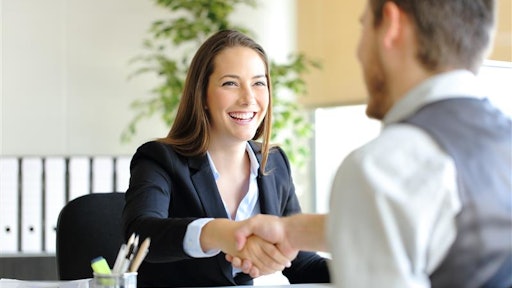 Antonioguillem/stock.adobe.com
The Great Resignation, or what some experts are dubbing The Forever Resignation, shows no signs of slowing down and workforce shortages are affecting most industries, supply chain included.
In Q3 of 2020, turnover rates surged. Truckload carriers with more than $30M in annual revenue had turnover rates of 92% while rates for smaller carriers reached 74%, according to the American Trucking Associations.
And the latest data shows the shortage was expected to reach a historic high of over 80,000 drivers last year.
Turnover is, in part, attributed to employees leaving for other companies that offer more attractive compensation and benefit packages.
According to a survey by Hire Right, 27% of truck drivers are leaving their jobs for companies that offer better benefits.
For an industry that's estimated to grow to $12.68 billion by 2023, it's vital that employers begin to look to innovative solutions that will attract and retain employees, support company growth, and ensure long-term profitability.
Musculoskeletal claims, workplace injuries driving healthcare costs
When it comes to offering employee benefits, supply chain companies face unique challenges for their industry.
When you consider the nature of the work—exposure to whole-body vibration in trucks, sitting for long periods of time, and bending, twisting, and carrying heavy loads—it's no surprise that employees have a higher risk for back and joint pain, and other chronic and progressive musculoskeletal conditions that lead to missed workdays, lost productivity, and high healthcare costs.
Among heavy and tractor-trailer truck drivers, there were 47,990 nonfatal injury and illness cases that required days off from work in 2019, a recent report by the U.S. Bureau of Labor Statistics found. Of those, sprains, strains, tears, and soreness and pain were among the leading causes.
Recent data shows the incidence rate of musculoskeletal disorders (MSDs) in the transportation and warehousing industry was 77.1 in 2018.
Truck drivers, and long-haul truck drivers, in particular, are forced to contend with constant fatigue, stress, isolation, and loneliness and have high rates of depression. Chronic diseases such as obesity, type-2 diabetes, and obstructive sleep apnea are also common among this employee population.
Innovative health benefits are vital for supply chain companies to retain employees, control healthcare spend
Since supply chain companies run on low margins, any amount of attrition affects their bottom line. Plus, word of mouth is strong in the industry, so providing excellent healthcare benefits is vital to attract and retain employees, improve a company's reputation and culture, and allow employees to feel that they're valuable members of the team.
Innovative health benefits that go above and beyond health insurance alone are often more important to employees than compensation, sign-on bonuses, referrals, incentives, and other perks.
Plus, in an industry plagued by a high incidence of MSK claims, injuries and chronic health conditions—and the associated healthcare spend—controlling costs for employers and their employees is top of mind.
In 2019 and 2020, large employers cite musculoskeletal issues, including lower back pain and knee and hip replacements, as the top condition driving healthcare costs, according to Business Group on Health's annual survey.
While surgery may be indicated in certain cases, it's often unnecessary and can lead to surgical complications, chronic pain, and hospital readmissions, all of which drive healthcare spending.
In fact, surgeries account for 49% of inpatient spending and overtreatment wastes between $75.7 billion to $101.2 billion a year in the U.S. a 2019 study in JAMA found.
As a result, employers are looking to new solutions, with 1 in 3 large companies who say they're developing a more focused strategy to address high cost claims.
Supply chain companies that are looking to combat high MSK healthcare spend should target unnecessary surgeries through a nationwide, value-based care and Centers of Excellence (COEs) solution with bundled payments.
These programs negotiate preferred pricing with providers that have been selected on specific quality metrics and incentivize them to offer the most appropriate care, including recommending non-surgical and less invasive treatments such as injections and physical therapy.
When surgery is necessary however, all of the services a patient needs are bundled into one, upfront payment, providing straightforward savings and an immediate return on investment.
Some COE solutions also may include a warranty that covers all related care within a predetermined time period. Since most complications and hospital readmissions occur within the first month of surgery, the warranty incentivizes providers to deliver the best possible outcome every time.
By offering flat rates for end-to-end care associated with specific procedures and costly conditions, bundled payments enable pre-negotiated cost efficiencies.
Employees benefit from these cost efficiencies because the out-of-pocket costs, including copays, coinsurance and deductibles, are reduced or eliminated, which also fosters employee loyalty and retention.
A 2021 study published by RAND Corporation in Health Affairs found applying bundled payments to orthopedic and surgical procedures resulted in 30% of unnecessary surgeries being avoided, and for those surgeries that were necessary, there was an 80% reduction in readmissions and 45% savings per procedure.
Often provided through a health plan or third-party vendor, these solutions work to improve the patient experience and health outcomes by connecting users to top-performing doctors and incentivizing appropriate care.
By eliminating unnecessary, inappropriate, and redundant care and treatment, and prioritizing quality care, costs are lower not only for the episode of care, but for the patient's overall healthcare journey.