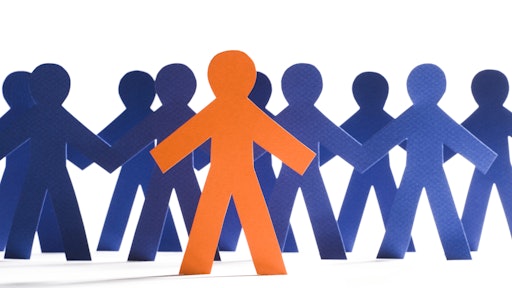 If the definition of great divide is "a distinction regarded as significant and very difficult to ignore," then the supply chain is facing one of epic proportions. There is a significant need for talent across the supply chain and that need continues to grow.
Tackling the looming people problem, described by some as the supply chain's weakest link, is a persistent and compelling need in today's global supply chain. Just two years ago, logistics trade group, MHI, reported the supply chain would need to fill 1.4 million new jobs by 2018. That number in itself is daunting but it inflates further when openings created by retiring baby boomers are factored in. The supply chain desperately needs workers with training and experience in engineering, analytics and robotics.
"It's important to note that there is not a skills shortage, however, but a talent shortage," stresses Tania Seary, founding chairman of Procurious, a business network for procurement and supply chain professionals. "We need people who can 'walk and chew gum'—that is they need to be able to fulfill the technical aspects of the role while also being able to engage the stakeholders."
Seary adds that supply chain management requires a "dynamic professional with a commitment to innovation, who challenges the norm; plans for the future; thinks strategically; understands corporate social responsibility, and political issues like trade, taxation and customs collaboration; and builds and manages relationships."
Without leaders possessing these skills, company innovation runs the risk of moving from running to a slow crawl. "Companies … need to infuse new ideas and different approaches to the status quo with rising talent that have been exposed to future trends like Big Data, the Internet of Things and other technological breakthroughs," reports Sue Steele, vice president of Global Supply Management for Jacobs, a global company that provides industrial maintenance, fabrication, construction and maintenance management technology to primary process industries.
As the chasm widens, another issue comes to light--the supply chain has an image problem. College students fail to see supply chain's cool factor. While there is a wide breadth and depth of opportunities, college grads seek out opportunities in other areas, viewing supply chain management as just the "math" behind "shipping and receiving."
Nancy Nix, executive director of AWESOME, which stands for Advancing Women Leaders in Supply Chain Operations, Management and Education, agrees: "They see careers in marketing and finance as sexy, and tend to equate careers in supply chain as 'get your hands dirty, operational kinds of stuff.'"
But Nix stresses, "It's so much more."
As the executive director and a professor in its supply chain practice at Texas Christian University's Neeley School of Business until 2013, Nix says she used to tell students the following to attract them to supply chain careers: "If you love to work with people instead of at a computer, think about supply chain. If you want to see outside the four walls of a company and really understand how a business operates, think about supply chain. If you want to see the results of what you do every day, and know you're making a difference, think about supply chain. If you want to learn about different countries and cultures, think about supply chain."
Camp out on Campus
Some companies are ahead of the pending labor crunch. Take Mattel Inc. This toy manufacturer, which does 50 percent of its manufacturing in-house, made national headlines recently with its method of attracting people to the supply chain.
Chief Supply Chain Officer Peter Gibbons told The Wall Street Journal that "Finding really good people who've been there and done it before is a challenge." To clear this hurdle, the company began hiring workers directly from supply chain and business programs then providing training and opportunities designed to mold them into supply chain leaders. The company diversifies worker experience by shifting employees around to different roles and departments early in their careers. And at a higher level, the company evaluates managers on the overall supply chain costs across all units as well as the rate that Mattel as a whole can deliver products on time and without damage.
The idea behind Mattel's program is that familiarity with the supply chain helps drive interest in its work.
While Mattel's program is making positive strides, Nix advises companies to attract students to the supply chain long before graduation. They need to identify with the supply chain "very early in their academic careers before they are too far down the pipeline of courses they need to take," she says. "We need to get them excited about it early; some people say you should do that in high schools."
Steele sees hope on the horizon as more U.S. colleges and universities begin to offer supply management undergraduate and graduate programs. In addition, she says role models, such as Apple CEO Tim Cook, who before being named to his current position was the company's chief operating officer for Apple's supply chain, have put supply chain on the center stage.
The time is ripe for companies to partner with these burgeoning programs, adds Nix. Companies can collaborate with local universities to further the success of supply chain degree programs and connect with rising stars within them. Teaming with guidance counselors at local high schools also might help, Nix says, because it helps steer students to supply chain programs from the beginning.
Most colleges with these programs would be more than happy to allow supply chain professionals to speak and present on their work to students. Doing this allows supply chain professionals to "discuss what challenges and opportunities they are facing to give students a current picture of the industry," Nix says.
Internships are another way to build supply chain's reputation. "We are doing more recruiting and offering internships to women and men before they graduate so they can see what it's like to work in a supply chain role," says Steele.
The Talent Within
Other company departments and competing firms also offer a plentiful talent pool. Sometimes potential supply chain leaders exist within the company already in a different functions or departments. "We need to tap into the 'hidden market'—those employees who are happily engaged in their day job rising up through the ranks of their existing employer… We want the stars; the people that their bosses stay awake at night worrying about them leaving," says Seary.
The supply chain needs individuals who have experience in other business areas. These individuals can bring new ideas and insight to the supply chain. Says Seary, "We need professionals who are T-shaped, who specialize in one narrow field but have a general understanding of a broader range of business issues," she says.
Nix advises being open to looking at candidates with skillsets outside the supply chain function. They may have skills that readily transfer to supply chain work. Companies can hire these individuals and train them in supply chain skills. Consider that a candidate's experience is in marketing. A potential employee with that background has strengths in managing relationships, collaborating, negotiating and networking. "They might be a great candidate for a purchasing role or a role where they manage relationships with external suppliers," Nix says.
"Historically, we never had supply chain programs," she continues. "We have a lot of supply chain leaders who came from marketing, finance and other roles. We should be open to bringing in individuals from other areas. Many skills are transferable; you just need the right process in place to give them the training they need to understand the context within you want them to operate."
Seek Out Social Media
To win the talent war, attracting potential employees also requires companies to engage with potential employees on the platform they use most: social networks. Seary says many companies need to upgrade their online presence to improve supply chain's image. "By creating and maintaining fresh and dynamic Facebook, Twitter and Google+ company profiles we can open the door for new recruits to our profession," says Seary, adding potential employees will base their opinions on word-of-mouth, social groups and online presence.
Creating and maintaining a fresh social media presence attracts new employees by giving them an opportunity to easily get to know the company, the products and its services. It also gives them a way to interact and network with employees. Social media helps companies "connect with candidates through 'off the cuff' conversations," Seary says. "You have to be there [in social media], and be responsive and engaging. If you want to win the war for talent tomorrow, you need to be looking at how you use social media today."
By the Numbers
38 percent - Respondents who reported being extremely or very confident that their supply chain organization has the competencies it needs today.
71 percent - Respondents reporting difficulty recruiting senior leadership for supply chains.
74 percent - Respondents reporting a need for strategic thinking and problem-solving skills in supply chain managers.
Source: Deloitte's third annual Supply Chain Survey
Women in the Workplace
The secret sauce to the supply chain talent shortage might be found in recruiting and retaining qualified women. "When women walk into a warehouse and walk around, often they say this is not what I had in mind coming out of the university," states Nancy Nix, executive director of AWESOME, which stands for Advancing Women Leaders in Supply Chain Operations, Management and Education.
"My first career was with DuPont, as a first line supervisor in the nylon spinning area," she says. "It doesn't get much dirtier and more operational than that."
She describes the position as an invaluable experience that helped her understand the everyday aspects of what makes a supply chain work. And she stresses that "once you understand that you can be so much more effective in any role you take."
AWESOME helps women think about the bigger picture; the place where female leaders might land if they stay within the industry. Ann Drake, CEO of DSC Logistics, launched AWESOME to help advance women supply chain leaders.
Besides helping women to understand the positives of the positions available in supply chain, Nix says AWESOME links women to positive role models who can mentor them and help them see the possibilities.
She points out that in the university programs, the breakdown of women to men is generally 50-50. Yet, the diversity isn't there later on. Somewhere along the line in the company itself, the breakdown becomes less than 10 percent female in management roles. "We need to look at why companies are losing that talent," she says. "We know women opt out and do something else if they don't feel heard or don't see the potential for growth or don't have the right work-life balance. We need to find ways to develop, retain and advance that talent. It's one thing to get them onboard but if you don't work with them to advance their skills, and make them feel valued, you're going to lose them to other areas."