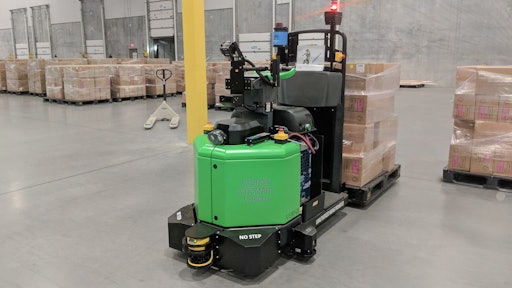 Vecna Robotics

Vecna Robotics, a leader in autonomous material handling solutions, is teaming with UniCarriers Americas (UCA), a leading manufacturer of material handling equipment and part of the family of one of the world's largest manufacturing companies, Mitsubishi Heavy Industries, to develop a line of autonomous material handling vehicles for warehouses, distribution centers and manufacturing environments.
Vecna Robotics is integrating its state-of-the-art autonomous navigation technology, learning algorithms and workflow orchestration software into UCA vehicles turning them into autonomous mobile robots (AMR), capable of moving bulk material through dynamic warehouse environments. The new line will also feature autonomous tuggers and lift trucks capable of vertical and horizontal movements with material up to 10,000 pounds.
"Vecna Robotics' collaboration with UCA has come at the perfect time," says Michael Baier, director of hardware engineering for Vecna Robotics. "Our customer base is rapidly expanding. Companies are no longer asking themselves if they should automate; they are now looking at when to automate, and the sooner, the better. Partnering with an industrial vehicle design expert like UCA helps us provide our customers with exceptional products and meet demand without skipping a beat."
The fleet will also feature Vecna Robotic pivot.al orchestration system, an AI-based fleet manager that distributes and redistributes work amongst humans, robots and standard automation based on capabilities, location and operational priorities. Pivot.al redesigns workflows, mixing and matching assignments based on the unique capabilities of humans and robots in real-time to ensure current operational processes align with current operational needs.
"Customer's expectations are changing too fast. Companies that restrict themselves to a specific workflow, robot or AGV are not optimizing productivity efficiently," says Brian Markison, senior director of national accounts and AGV sales at UCA. "This strategic partnership helps Vecna Robotics and UCA reach a very important shared objective – providing customers flexible and cost-efficient material handling solutions that reliably gets goods out the door no matter how demand or markets change."
Companies in this article