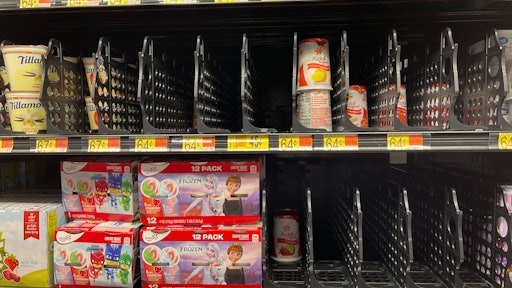 mdurson AdobeStock_516778180_Editorial_Use_Only
As retailers face continued supply chain disruption – from the long shadow of COVID-19 to worker shortages and climate change – shoppers are reporting increased levels of out-of-stock products, according to the latest data from Retail Insight.
Original research revealed that 78% have experienced out-of-stock products in-store in the past 12 months, up 6% year-over-year, while 68% have experienced the same issue online, an increase of 9% since 2022.
"Regardless of the causes – of which there are many and, rather unjustly, a great number of which remain outside of a retailer's direct control – poor product availability doesn't just impact customer experience at the shelf edge," says Paul Boyle, CEO, Retail Insight. "It can cost retailers lost sales and, even more detrimentally, long-term loyalty."
Key takeaways:
Three in four shoppers (75%) say product availability has become more of a problem since the pandemic, and nearly three quarters of shoppers (73%) now experience more out-of-stocks since the start of the cost-of-living crisis. Two-thirds (66%) of customers reported that their favorite brands have been less available in-store across the last year, while 51% had noticed more items are missing from their online grocery orders.

U.S. shoppers blamed poor product availability on the cost of living, with 48% citing the growing cost of food production and a further 54% pointing to inflation as the biggest factors impacting stock levels. Meanwhile, 34% said the increased costs of logistics were liable for the problem of rising out-of-stocks, and a further 30% blamed a lack of store staff to stock shelves.

Three in 10 (30%) U.S. consumers would question their loyalty to a grocer if out-of-stocks became a regular occurrence, and a further 24% would abandon their shopping missions and leave the store without buying other items in their baskets if they experienced a gap on shelves.
"While the figure varies from grocer to grocer and from category to category, the accuracy of availability of product on the shelf can vary significantly, with inventory records usually only 50-60% accurate," Boyle says. "When items are unavailable, hidden or damaged, the resulting lost sales can be as much as 8% of revenue, an opportunity retailers can ill-afford to leave on the table. By leveraging 'live' data, retailers can build a more accurate picture to ensure better product availability, putting the right product on the right shelf at the right time to keep their customers happy and encourage shopper loyalty."