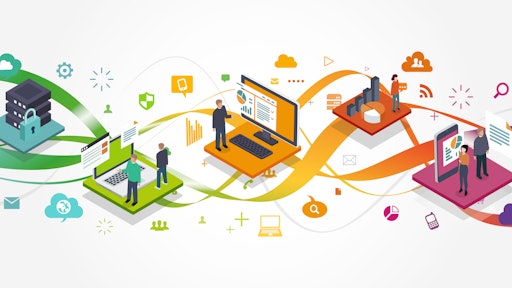 Julien Eichinger AdobeStock_266111762
In the midst of economic uncertainty and an unpredictable market, business leaders are increasingly investing in digital transformation projects to stay agile and bolster supply chain resiliency.
In fact, a recent survey by Gartner found that 82% of CEOs in supply chain-intensive industries plan to increase investments in digital capabilities over the coming months.
To achieve digital transformation aims, companies must redesign their processes with automation built-in, leveraging machine learning or artificial intelligence models, and take the steps needed to ensure the high volumes of data powering them is accurate, consistent, and contextual. The integrity of the data fueling these technologies directly impacts its performance and reliability, so it is essential for businesses to ensure they are putting foundations of trusted data in place. Below are three key steps that organizations should take to achieve digital transformation success:
Break down data silos.
When organizations evaluate their supply chain, they often encounter large amounts of data. For any single product or good produced, leaders must synthesize data surrounding how it was made, its journey from manufacturer to carrier, how it was transported to a port or distribution center, and more. As the product changes hands and is transported from location to location, different data points are often housed in multiple sources. This creates a fragmented look at a product's development and transportation.
Organizations benefit from breaking down silos and integrating data across different sources because they gain a single and more comprehensive view of their end-to-end supply chain. Data silos also cost organizations valuable time and resources. A recent commissioned study by Forrester found that data silos cause employees to lose 12 hours per week chasing information. Data integration ensures that changes to one data set are reflected in others, allowing data to be up-to-date, accurate, and complete.
As companies undergo digital transformations and develop their execution strategies, data integration plays a major role - ensuring that the latest data points are accessible and implemented in order to derive insights from a complete set of information.
Proactively maintain data quality and governance.
Advanced technologies need to be powered by high-quality data to ensure trustworthy outcomes, but the latest research on data integrity trends shows that 70% of organizations who do not trust their data cite data quality as their biggest challenge. Data quality controls are essential in helping organizations make sure data is accurate, valid, and complete, whereas a data governance framework works in tandem to ensure that the data can be easily found, understood, trust, and leveraged across the organization. Businesses are also increasingly turning to data observability initiatives to proactively discover issues impacting the reliability of data – meaning bad data can be stopped in its tracks before it has a chance to negatively impact decision-making.
High-quality data supports organizations by fueling key insights that guide digital transformation projects, allowing leaders to assess where they are in their transformation cycle, where they want to go, and how they strategically can get there.
Unlock greater context.
Contextual insights add enormous value to business data, offering an expanded perspective on the places, surroundings, people, and behaviors that matter most. Location intelligence and data enrichment help to unlock rich context from existing data, fill in the missing pieces, and reveal hidden patterns or trends that can better inform supply chain strategy. By understanding the demographics of target markets, detailed traffic patterns, parking infrastructure, geographic and social boundaries, and more, organizations can develop a highly accurate understanding of market dynamics and make more confident decisions.
Many organizations are now realizing the benefits of spatial information, with the latest data integrity research showing that 77% of surveyed organizations report leveraging location data for decision-making. As leaders look at their supply chains in the context of global markets, they gain an enhanced understanding of macroeconomic trends and the different digital technologies needed to help ensure resiliency and success.
Data Integrity is Key to Success
Organizations can move the needle toward achieving trusted data by prioritizing data integration, data quality and governance, location intelligence, and data enrichment. Data integrity is a critical component of successful digital transformation plans, ensuring that automation technologies are fueled with accurate, consistent, and contextual data for optimal results. Ultimately, it will be the businesses that prioritize building foundations of trustworthy data that will be best placed to ensure supply chain resiliency and agility through the uncertain times ahead.