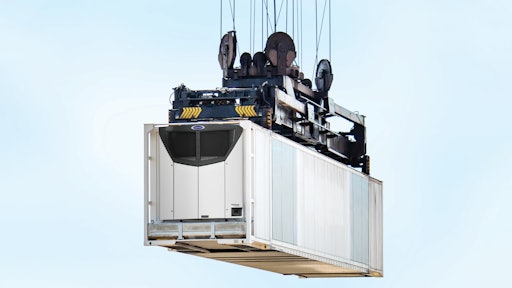 Carrier Transicold
Carrier Transicold introduced its new thin-profile Vector 8400R refrigeration unit for domestic intermodal containers.
"Carrier Transicold intermodal units play a vital role in helping California to ship agricultural products throughout North America, and lifetime CARB compliance helps our customers achieve maximum value for their investment," says Bill Maddox, senior manager – product management, Carrier Transicold. "While innovating to achieve greater emissions performance, we also focused on optimizing fuel efficiency, making the Vector 8400R an even more attractive upgrade for intermodal carriers."
Key takeaways:
The Vector 8400R delivers highly efficient refrigeration and freezing performance in a space-saving, thin-profile design, and surpasses EPA Tier 4 requirements by cutting particulate emissions for lifetime compliance with

California Air Resources Board (CARB

) requirements without the need for future exhaust control systems.

About 40% thinner than a traditional intermodal refrigeration unit, the Vector 8400R fits within a trim envelope and maximizes usable container space for more efficient operations.

Built on a proven platform, the unit has an advanced new engine with common-rail fuel injection that optimizes fuel delivery for improved efficiency.

In combination with the new engine, a diesel oxidation catalyst pushes particulate, hydrocarbon and NOx emissions to new lows without requiring complex exhaust gas recirculation systems found with competitive units.

Carrier Transicold's

E Drive all-electric refrigeration technology consistently and efficiently delivers high refrigeration capacities, powerful airflow and fast pulldown.
Vector 8400R units are equipped with

Carrier Transicold's

Lynx Fleet telematics solution for remote monitoring of temperatures, location, movement and unit operating performance.