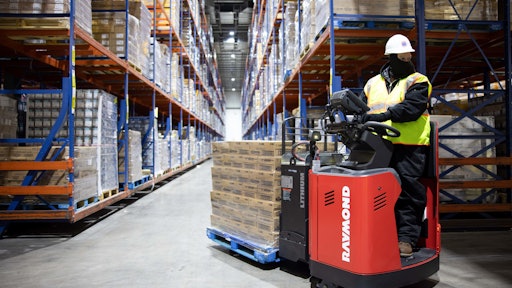 The Raymond Corporation
The Raymond Corporation's lithium-ion-ready rider pallet truck, the Raymond 8910, is the newest addition to its host of intralogistics solutions. The pallet truck features purposeful controls, a spacious operator compartment with enhanced ergonomics and a deadman pedal for easy operation.
"With skilled labor in short supply, operations are looking for technologies that are operator-friendly and ergonomic," Chad Kritzman, product manager of pallet trucks, The Raymond Corporation says. "This cutting-edge pallet jack provides a user-friendly operating experience with features like auto-slowdown when cornering to further enhance load stability and operator confidence."
The Raymond 8910…
Can easily integrate with a full suite of telematics solutions through the iWAREHOUSE Fleet Management System, allowing operations to gather information directly from their fleet and workforce to enhance efficiency and reliability.
Includes an updated OCSS option designed for work in cold-storage applications.
Boasts upgraded technology that reduces energy consumption, providing a longer uptime.
Has a reduced head length, enabling a smaller turning radius for greater maneuverability in tight areas.
Includes automatic drive tire centering upon startup and auto-slowdown when cornering.
Is compatible with various fork lengths.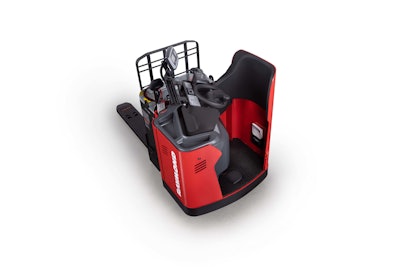 The 8910 enclosed end rider pallet truck is best used for:
Horizontal transportation   
Manufacturing
Long runs to P&D stations    
Cold storage
Pallet breakdown