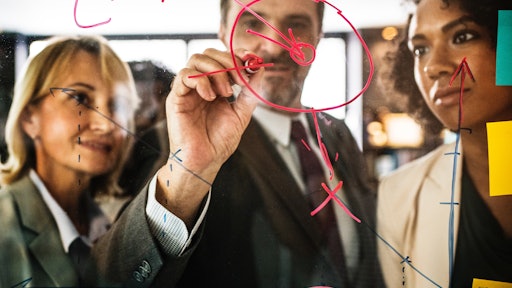 2020 RIA Board of Directors Election Results Announced
The Robotic Industries Association (RIA) announced the results of the recent Board of Directors election. The new Chairperson of the Board is Matt Wicks, Chief Robotics Solution Architect, Honeywell Intelligrated.
Newly elected board members include:
RIA board members who retained their seats in the recent election include:
The RIA Board Executive Committee in 2020 includes the following industry leaders:
International Foodservice Manufacturers Association Announces 2020 Executive Committee and Board of Directors
The International Foodservice Manufacturers Association (IFMA) announced the election of officers and directors to its 2020 Board of Directors, including new Board Chairman Perry Miele, president of Nestlé Professional.
2020 Executive Committee
In addition to Miele, the following IFMA Board members will be serving on the association's Executive Committee this year:
2020 Board Members
Five new members have also been elected to IFMA's Board of Directors, including:
IFMA is pleased to announce that the following board members will continue to serve the association and the industry in 2020:
Bristol Bay Native Corporation Announces Leadership For Bristol Bay Seafood Investments
As part of its new investment into Alaska's seafood industry, Bristol Bay Native Corporation (BBNC) has hired Amy Humphreys as President and CEO and BBNC shareholder Everette Anderson as Senior Vice President of Bristol Bay Seafood Investments, LLC. In their new positions, Humphreys and Anderson will guide and grow BBNC's emerging venture into this major sector of Alaska's economy and overall global commerce.
BBNC acquired Blue North Fisheries and Clipper Seafoods in September 2019 and organized the two companies under the banner of Bristol Bay Alaska Seafoods LLC. As part of this transaction, BBNC also created Bristol Bay Seafood Investments, LLC to serve as a holding company for Bristol Bay Alaska Seafoods LLC and any future seafood investments.
Former Clipper Seafoods President David Little and Michael and Patrick Burns of Blue North Fisheries will continue to manage operations of Bristol Bay Alaska Seafoods.
Both Humphreys and Anderson begin their new roles immediately.
inRiver Appoints Per-Olof Schroeder as Chief Executive Officer
inRiver, a provider of SaaS-based product information management (PIM) solutions, announced the Board of Directors has appointed Per-Olof Schroeder chief executive officer. He will assume day-to-day leadership of the company.
Schroeder has more than 25 years in leadership roles in the IT industry, comprising a 15-year tenure at Microsoft including seven years as the leader of Microsoft's Productivity & Business Process Business Group in the Western Europe Region.
Ecolab Names Emilio Tenuta Senior Vice President of Sustainability
Ecolab Inc. announced that Emilio Tenuta has been promoted to senior vice president of sustainability.
Tenuta leads Ecolab's global sustainability programs and strategies. His work has helped advance greater understanding of the impacts of global water scarcity and the solutions available for better water management. He continues to lead the development of unique diagnostic and planning tools for broad industry use, such as the Water Risk Monetizer and Smart Water Navigator.
Mobilogix Significantly Strengthens Leadership Team – SUGA International CTO Alfred Ng, Ph.D., Joins Board Of Directors
Mobilogix, the world's leading provider of asset management and data optimization solutions, today announced the appointment of Alfred Man Cheuk Ng, Chief Technology Officer of SUGA International Holdings Limited, to its board of directors.
Ng has extensive experience in electrical engineering and computer sciences and has worked in a leadership position with IT giants like Nokia, Qualcomm Inc., and IBM. With a Ph.D. from Massachusetts Institute of Technology and Bachelor of Engineering from Imperial College London, he is also an Adjunct Professor at the City University of Hong Kong.
Kenco Logistics Expands E-Commerce Service Offering, Adding Dan Coll as Vice President
Kenco Logistics announced the addition of Dan Coll as Vice President, E-commerce Fulfillment. Coll will lead the expansion of Kenco's e-commerce service offering, a strategic initiative designed to support the company's rapid growth and diversification of its core offerings to align with the needs of today's omni-channel supply chain customer. Kenco's technology-enabled suite of supply chain solutions includes a network of over 90 distribution facilities, end-to-end transportation services and an internal innovation lab, all of which will support the rapid expansion into the e-commerce supply chain.
Coll's e-commerce supply chain experience spans 20 years. He is known for his unwavering commitment to deliver exceptional service and value to his customers. His most recent role was leading the strategy, execution and launch of FedEx Fulfillment, the newly introduced eCommerce fulfillment initiative for FedEx. Prior to joining FedEx Supply Chain (via the GENCO acquisition), Coll was the founder and President of Rapid Fulfillment, a supply chain company that delivered eCommerce fulfillment solutions for emerging brands and the Fortune 100. He studied business with a concentration in marketing at the University of Pittsburgh and the American College of Dublin in Ireland.
Dunkin' Brands Announces Appointment Of Three International Vice Presidents
Dunkin' Brands, the parent company of Dunkin' and Baskin-Robbins, announced the appointment of three vice presidents to its international team. Rini Ernawati has been promoted to Regional Vice President, Asia Pacific, Caner Gursoy has been promoted to Regional Vice President, Europe, Middle East, Africa and Australia, and Ashish Asthana has joined the company as Vice President of International Marketing. All three vice presidents will report to John Varughese, Senior Vice President, International.
McLane Promotes Susan Adzick to Executive Vice President and Chief Operating Officer of McLane Foodservice
McLane Company Inc. announced that Susan Adzick has been promoted to executive vice president and chief operating officer of McLane Foodservice, effective January 6, 2020. In July of this year, Adzick will transition to president of McLane Foodservice.
Since joining McLane Foodservice in 2000, Adzick has held various leadership positions including her most recent role as senior vice president of sales and strategic relationships, which she has held since 2018. She has worked to elevate the McLane Foodservice brand to higher visibility within the industry, grow market share with existing brands and add new customers in the casual dining and fast casual segments. Over the last few years, Adzick provided the strategic direction, business development and customer relationship management for the entire portfolio of McLane's foodservice business.
Additionally, Adzick serves on the National Restaurant Association Board of Directors, National Restaurant Educational Foundation Board of Directors as vice chair, Restaurant Leadership Conference Advisory Council and served on the Women's Foodservice Forum (WFF) Board of Directors as chair in 2018.
James C. Pappas and Mark J. Schmulen Added to the Board of Directors of Innovative Food Holdings, Inc.
Innovative Food Holdings, Inc. announced that James C. Pappas and Mark J. Schmulen have joined the Company's Board of Directors. The addition of Mr. Pappas and Mr. Schmulen to the Company's Board brings the total number of directors to seven.
Lipari Foods Names Dave Littleson Chief Financial Officer
Lipari Foods announced Dave Littleson has been named Chief Financial Officer (CFO). As CFO, Littleson will oversee all company financial operations. He will succeed Curtis Groves who will be retiring later this year and has served as Lipari's CFO for 8 years. Littleson will report directly to Chief Executive Officer Thom Lipari.
American Egg Board Names Nate Hedtke Vice President of Market Development
The American Egg Board this week named Nate Hedtke Vice President of Market Development. Hedtke will lead the AEB's Market Development team and direct programs spanning manufacturing, foodservice, Eggs in Schools and exports.
An accomplished business leader with comprehensive knowledge of all aspects of marketing and sales, Hedtke has an impressive success record with large consumer packaged goods companies and private equity-owned organizations.
MATRIXX Software Announces Glo Gordon CEO
MATRIXX Software Inc. has appointed board member Glo Gordon to succeed Dave Labuda as CEO of MATRIXX and lead the company through its next phase of transformative growth. Following a February transition, Labuda will remain with the company as non-executive chairman of the Board and Senior Innovation Advisor.
Gordon has been a MATRIXX board member over the past year and brings extensive global leadership experience in enterprise software, sales and OSS/BSS, as well as a proven track record of driving transformative growth and sales. She most recently served as Chief Revenue Officer for Uptake, an industry leader in industrial artificial intelligence.
Organics Unlimited Expands Organic Produce Team, Adds Logistics and Operations Assistant
Organics Unlimited, San Diego-based grower and distributor of organic tropical fruit, recently added Jose Miguel Naranjo to the company as its logistics and operations assistant. The Tijuana native brings seven years of logistics and import-export experience to America's largest family-owned organic banana brand.
Naranjo will help with the important daily tasks of coordinating Tijuana-San Diego border crossings and warehouse coordination of product along with gaining greater efficiencies throughout all operations.
Generational Success at Valley Cooperative Association
Since 1949, Valley Cooperative Association has been a trusted resource for bakeries. During the last 70 years, the Cooperative has grown while the baking industry has evolved significantly. Over the decades, Valley has stayed true to its mission and values. Mark Munroe, Valley's CEO, is announcing his retirement fulfilling a 35 year career with the Cooperative. Munroe has served on multiple boards including Retail Bakers of America, Dawn Distributors Advantage and the National Association of Flour Distributors.
In early 2019, Valley's Board of Directors continued the tradition of promoting from within the organization. On March 1, 2020, Munroe will be passing the torch to current Executive Vice President, Rich Wise.
Brett Bissell Appointed Chief Executive Officer of LaserShip
LaserShip announced the appointment of its new Chief Executive Officer, Brett Bissell. Mr. Bissell succeeds Blake Averill, who, as one of the Company's co-founders, was instrumental in shaping and growing the Company to be a leading regional e-commerce parcel carrier. Mr. Averill will continue to serve as a Board member. Mr. Bissell will be based in LaserShip's Vienna, Virginia headquarters.
In addition to a process-based and culture-centric approach, Mr. Bissell will bring extensive commercial experience to bear at LaserShip. He began his career with Toshiba Corporation as an engineer, and after stints with Motorola and Qualcomm, he joined Flex Corporation as General Manager in Nagoya Japan and then subsequently as Vice-President and Country Manager for Brazil operations for Flex, leading a period of significant growth and expansion. Mr. Bissell joined Ceva Logistics in 2011 as Executive Vice-President of Latin America and in 2014 was promoted to Chief Operating Officer of Ceva's Contract Logistics business line responsible for Ceva's multibillion-dollar global operations.
Nolan Transportation Group Appoints Geoff Kelley As President To Lead Next Phase of Growth
Nolan Transportation Group (NTG), one of the largest and fastest-growing non-asset truckload freight brokerages and provider of third-party logistics services in North America, announced veteran logistics industry executive Geoff Kelley will join the company as president. Geoff will lead NTG's next growth phase, driving nationwide expansion as a multi-modal brokerage provider through organic growth and M&A strategies.
Most recently, Geoff served as the Chief Operating Officer at Coyote Logistics, a subsidiary of UPS. While at Coyote, Geoff drove organic growth, new innovative solutions and diversified strategies while guiding synergies between UPS and Coyote. Previously, he held various UPS leadership positions including roles in Global Freight Forwarding, M&A and Treasury.