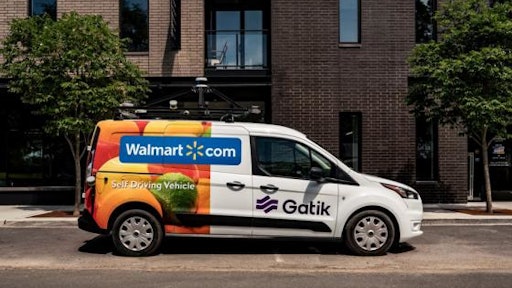 Walmart
Walmart is still in the race for autonomous delivery.
The retailer has teamed up with autonomous-vehicle company Gatik to deliver custom orders on a two mile route in Bentonville, Arkansas. The vehicle will move between two stores.
"We aim to learn more about the logistics of adding autonomous vehicles into our online grocery ecosystem, operation process changes and more opportunities to incorporate this emerging technology," wrote Tom Ward, SVP, digital operations, Walmart, in a blog post, also noting that the company has "been exploring a few pilot projects with self-driving car companies that include both customer delivery as well as transporting goods between our locations."
The test comes as Arkansas passed a legislation that allows autonomous vehicles to operate in the state.
Companies in this article